Program #1390 – Antonio Carlos Jobim's Birthday Celebration
Antonio Carlos jobim's Birhday Celebration airs daily on our streaming Station from 01-16-19 through 01-22-19 Monday-Friday at 7 am, 3 pm, 6 pm and midnight Central Time (US). Weekends, too.
On The Radio: Listen to The Sounds of Brazil every Sunday, 2-4 pm on Chicago's 90.9 FM WDCB and streaming live at wdcb.org.  Click here for a complete list of our affiliate stations.
Welcome!
It's my annual salute to Brazil's greatest songwriter on The Sounds of Brazil, but I'm looking ahead, while doing my best to "overlook" winter.
Not easy, all of a sudden.
But this week,  the cold and snow will melt away for the songwriter whose melodies inspired the warmth of Brazilian song, Antonio Carlos Jobim.
Every song during this two-hour show comes straight from the Jobim Songbook. All 27 of them!
It's a show you won't want to miss, when we celebrate the musical life of The Man From Ipanema. Be sure to join me!
Happy Listening,
Scott Adams
The cold weather in the days ahead begs for a seasonal Brazilian treat so try an easy recipe for Warmed Brazilian Spiced Cider, my original take on Brazil's traditional Quintao, click the image below for how to do it, along with the story behind this one-of-a-kind sipper, plus a perfectly-paired song, too! Of course.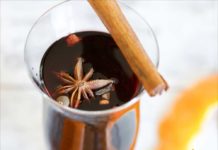 R-E-L-A-X with The Sunday Brazilian Brunch. It's perfect for smoothing out the bumps of a busy week. Three full hours every Sunday beginning at 5 am Central, and then again at 9 am, 2 pm and 8 pm. No app needed when you click the 'play' arrow at the bottom of every page at Connectbrazil.com.
This Sunday, It's fan favorites from Alexia Bomtempo and Celso Fonseca and you are invited to listen live!
~ ~ ~
Our Streaming Station's popular Brazil Back2Back segment has growen to a third play every Monday, Wednesday and Friday. Listen at 11 am, 2 pm and 5 pm Central.
Always two of a kind, and always two in a row! Have an idea for an upcomiong Brazil Back2Back? Click here to make a request.
~ ~ ~
Click on any song to order from Amazon. You'll be supporting The Sounds of Brazil when you do. Thank you!
Antonio Carlos Jobim's Birthday Celebration
Hour 1:
Set 1: The Sounds of Brazil Opening Theme
Lamento<>Nelson Riddle/The Silver Collection
How Insensitive<>Tom Jobim & Sting/Antonio Brasileiro
Antigua<>Leo Gandelman/Brazilian Soul
Welcome to The Brazilian Club Lounge
Dindi<>El DeBarge & Art Porter/A Twist of Jobim
Special Announcement
Batidinha<>Antonio Carlos Jobim/Wave
Set 2:
Introduce Our Next Set
Wave<>Joao Gilberto/Amoroso
Children's Games<>Lee Ritenour/Portrait
Introduce Next Song
Amor em Paz<>Rosa Passos/Festa
Desafinado<>George Michael & Astrud Gilberto/Redhot + Rio
One Note Samba<>Stan Getz with Charlie Byrd/Jazz Samba
Set 3: This Week's Spotlight Song
Chega De Saudade<>Eliane Elias/Bossa Nova Stories
Waters of March<>Al Jarreau & Oleta Adams/A Twist of Jobim
Correnteza<>Quarteto Jobim Morelenbaum/Quarteto

Antonio Carlos Jobim's Birthday Celebration
Hour 2:
Set 1:
Outra Vez <>Antonio Carlos Jobim/Composer
Jobim Medley (Viva,Triste,Meditacao)<>Emilio Santiago/Para Feliz… (Not Available)
Welcome To Our Second Hour
Estrada Do Sol<>Tom Jobim/A Certain Mr.Jobim
Corcovado<>Everything But The Girl/Redhot + Rio
Manha De Carnaval-A Felicidade<>Cesar Camargo Mariano/Natural
Special Announcement
Triste<>Elis Regina/Personalidade
Special Announcement
Set 2:
Introduce Our Next Set
Garota De Ipanema<>Marina/Melting Pop  (Not Available)
Zingaro<>Antonio Carlos Jobim/Composer
Introduce Next Song
This Happy Madness<>Kenny Rankin/Here In My Heart
Agua De Beber<>Ulisses Rocha/Moleque
Bonita<>Salena Jones/Salena Sings Jobim
Set 3:
Desafinado<>Toninho Horta/To Jobim With Love
Anos Dourados<>Sergio Mendes/Oceano
Forever Green<>Antonio Carlos Jobim/Antonio Brasileiro
Antonio Carlos Jobim's Birthday Celebration on The Sounds of Brazil