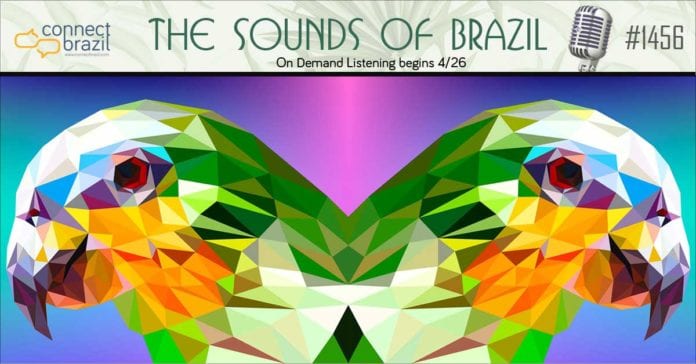 Live365.com is the Official Streaming Radio Partner for The Sounds of Brazil!
'The Best of Brazil 2019' airs daily on our streaming Station from 12-26-19 through 01-01-20 Monday-Friday at 7 am, 3 pm, 6 pm and midnight Central Time (US). Weekends, too. On The Radio: Listen to The Sounds of Brazil every Sunday, 2-4 pm on Chicago's 90.9 FM WDCB.
Click here for a complete list of our affiliate stations. Use our time zone converter to find your local time.
On Demand: This program is available for repeat listening from December 29th to January 12th, 2020.  Click here to Listen.


Carmen Miranda had just turned 30 when she arrived in New York from Rio in 1939; Antonio Carlos Jobim wrote many of his best songs by age 25. And Marisa Monte was only 22 when she recorded her first album in 1989. Time marches on, so today, we'll explore Brazil's Millennial Music Makers. A baker's dozen of the best new generational voices from the land of samba and sun including a broadcast debut for Alexia Bomtempo.
Get Connectbrazil's weekly e-letter here.
New names, new sounds! Plus a few "back in the day" hits from Erasmo Carlos, Milton Nascimento and Djavan as we settle in with the ever-changing, always compelling Sounds of Brazil.
Happy Listening,
Scott Adams

Back2Back! Our top of the hour two-in-a-row features new music – every Wednesday, plus suprising two-fer every Monday and Friday, too! Listen Live at 11 am 2 pm and 5 pm Central on the PLAY button at the bottom of your screen!
~ ~ ~
Fall Sundays are made for relaxing, so let The Sunday Brazilian Brunch provide the perfect soundtrack for a potpourri of the softer side of Brazilian song! You're invited to join us every Sunday for three hours at 5 am (for our international listeners) 9 am and again at 2 pm and 8 pm CT. Click the play button at the top of this page.
~ ~ ~
Make A Request! Have a favorite song, style or musician?. I'd be happy to play it for you! Click here to place a request.
~ ~ ~
This week's show:
Brazil's Millennial Music Makers
Hour 1:
Set 1: The Sounds of Brazil Opening Theme
O Que E Que Tem<>Ana Clara/Abencoada
Border Line<>Deodato/The Crossing
Mane Joao<>Erasmo Carlos/Samba Soul Groove
Welcome to the Brazil Club Lounge
Coiza Boa<>Quetzal Guerrero/Coiza Boa
Special Announcement
Set 2:
Introduce Our Next Set
Vento Praia Nordeste<>Zanna/Zanna
Estrada Branca<>Til Bronner/That Summer
Introduce Next Song
Nothing But A Song<>Tiago Iorc/Let Yourself In
Nos Dois<>Milton Nascimento/A Barca Dos Amantes
Café Caldo<>Mazachigno/Cafe Roma 2
Make Me Stay<>Torcuato Mariano with Debora Cidrack/Single
Set 3: Introduce This Week's Spotlight Song
Will I See You<>Anitta with Poo Bear/Checkmate Campaign
O Que Faltou<>Ziggy Blue Featuirng Natalis/Single
Coisas de Mar<>Ronaldo Folegatti/Mazy Days
________________________________________________________
________________________________________________________
Brazil's Millennial Music Makers
Hour 2:
Set 1:
Guaratiba<>Azymuth/Carioca
Porta Aberta<>Belo/Mistério
Welcome To Our Second Hour
I Thought About You<>Alexia Bomtempo/Chasing Storms and Stars
Planador<><Gabriel Martins/Mergulho
Se<>Djavan/Coisa De Escender
Special Announcement
Set 2:
Introduce Next Song
Rainha<>Toco & Nina Miranda/Memorias
Eterno Vearo<>Mahmundi/Mahmundi
Introduce Next Song
Leblon<>Adam Dunning/Sunset Monkeys
Pepe<>Ricardo Silveira/Small World
Voce Não Presta<>Mallu Magalhaes/Vem
Set 3:
Para Ti<>Marcela Mangabeira/Simples
Happiness<>De Phazz/Dinner Party
Living On Sand<>Leo Gandelman/Brazilian Soul
~ ~ ~
Next Week: We'll do a deep dive into two hours of fan favorites from Marisa Monte, so plan to join me for a special program. Be sure to send me your request for your favorite female vocalist sometime this month. Drop a note in the Chat Box on the Lounge page!
Whether it's your radio, your computer at work or your tablet or smart phone, thanks for tuning in! I really appreciate it, and please tell a friend or two about us.
And don't forget about our weekly broadcasts in Chicago: Sundays at 2:00 pm Central on 90.9 FM WDCB and wbcb.org.
View our complete daily broadcast schedule here.
Brazil's Millennial Music Makers