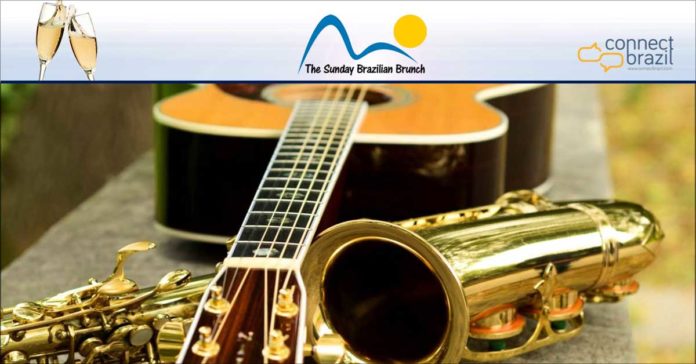 Guitars and Saxes bring us the yin and yang of Brazilian music for all three hours of The Sunday Brazilian Brunch this weekend.
Ready to add another chapter to our 'Warmth of Brazil' Story Stream?
You'll find the PLAY button at the bottom of any page at Connectbrazil.com.
It's a musical marriage of 'Guitars and Saxes' this week on The Sunday Brazilian Brunch as we showcase several of each.
Six-string electric, seven-string acoustic, or the four-string ukulele (which here is called the cavaquinho), right down to the single-string twang of a Brazilian berimbau, the musicians who play these instruments are elemental to the nation's natural sound, no matter what the style.
On the other hand, the saxophone is not 'native' to Brazil. It's a relative newcomer to the land of Samba and Sun, but it didn't take long for the horn to catch on, with dozens and dozens of sax stars to brighten up the Brazilian night. In fact, for nearly a dozen years now, saxophonist Leo Gandelman has carried the award-winning title of Brazil's Best Instrumentalist.
Get my weekly E-Letter
Three full hours to indulge with The Warmth of Brazil
From guitarist Torcuato Mariano to reedman Jorge Continentino, here's a show you won't want to miss!
I'll also bring you another classic song from Connectbrazil.com's recently named 'Album of The Year'. You'll hear it midway through our second hour.
THREE MEMORABLE STORIES BRING BOSSA'S 60TH YEAR TO A CLOSE
More and more new listeners are tunitng in to The Sunday Brazilian Brunch with each passing week, so tell a few freinds about the show by using the share buttons above as we look ahead to another great year of Sunday shows here on our streaming station at Connecbrazil.com.
Happy Listening,
Scott Adams
Alexandra Jackson is a Celebrity Contributor at Connectbrazil.com 
Listen Live! Sundays only, for three full hours beginning at 5 am, 9 am and 2 pm Central time every Sunday for The Sunday Brazilain Brunch: plenty of great music and a story or two. Or tune in for the Brazilian Brunch nightcap at 8 pm CT.
Only on our streaming station right here at Connectbrazil.com. On-Air Guide  Chat Box  Time Zone Converter 
Click on the 'Play' button at the bottom of any page to listen live.