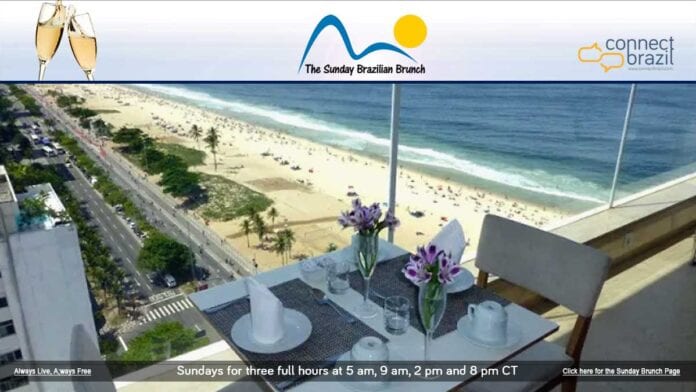 Listen to The Sunday Brazilian Brunch! One of life's greatest pleasures is waking to the warmth of a Copacabana morning to enjoy a relaxing brunch at your hotel's balcony table and then moving poolside for some quality time with the Brazilian sun… That's the spirit of The Sunday Brazilian Brunch!


Sundays are special; especially this one. Time to set the rest of your busy week aside and relax with us for a while. Listen to The Sunday Brazilian Brunch! On the go? Take us along with our apps for Android and Apple, too.
This Week on The Sunday Brazilian Brunch:
'Birthdays for Roberto Menescal, Milton Nasicemnto and Ricardo Silveira'
No doubt about it – there's a chill in air as Autumn finally sets down its marker for the season, so let's settle in with The Sunday Brazilian Brunch from some tropical warmth.
I'm Scott Adams, and call it a confluence of coincidence, but today we'll celebrate a trio of musical birthdays, for Bossa legend Roberto Menescal and guitarist Ricardo Silveira, both born on October 25th and Milton Nascimento on the 26th! You'll hear from all three during the program today.
You're sure to enjoy this week's show: The best of Brazilian jazz, Bossa Nova and fan favorites from our earliest years on the radio with The Sounds of Brazil's weekly syndicated program.
And I am always more than happy to play your request for a favorite song, style or musician anytime. Feel free to use the 'Make A Request' link at the top of this page to send me yours. I'll send you a note of thanks, along with the day and time I'll play your special song, so you can share it with your friends.
I'll tell you what's coming up next week at Connect Brazil, too.
Happy Listening,
Scott Adams