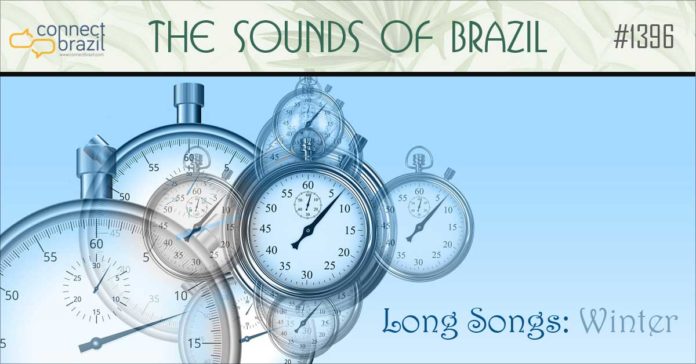 Program #1396 – Long Songs: The Winter Edition
'Long Songs: The Winter Edition' airs daily on our streaming station from 02-27-19 through 03-05-19 Monday-Friday at 7 am, 3 pm, 6 pm and midnight Central Time (US). Weekends, too.
On The Radio: Listen to The Sounds of Brazil every Sunday, 2-4 pm on Chicago's 90.9 FM WDCB and streaming live at wdcb.org. Click here for a complete list of our affiliate stations.
Fact: Even February's longer days are short.
It's true. But we perfer to look at thngs differently. How about "every day gets a little bit longer?" Closer to Spring and the Summer sun.
So, longer days, longer songs! Melodies that go on forever because they have a lot to say! Two full hours of 'drift away' tunes from Seu Jorge, Azymuth, Latin Vibe, Al Jarreau, Pat Metheny and more.
After all, The Sounds of Brazil is the only streaming station that chases the sun all year long… So here's two hours of the longest songs for our longer days. It's the Winter Edition, so enjoy!

Happy Listening,
Scott Adams
~ ~ ~
Sunday – Appointment Listening Made Easy: There's always a place at the table for you, so join me for The Sunday Brazilian Brunch every Sunday beginning at 5 am Central, and then again at 9 am, 2 pm and 8 pm.
Three full hours No app needed when you click the 'play' arrow at the bottom of every page at Connectbrazil.com.
This Sunday, we'll catch up with Fabiana Passoni and her best songs. just ahead of her birthday next week.
~ ~ ~
Our Streaming Station's popular Brazil Back2Back segment has growen to a third play every Monday, Wednesday and Friday. Listen at 11 am, 2 pm and 5 pm Central.
Always two of a kind, and always two in a row! Have an idea for an upcomiong Brazil Back2Back? Click here to make a request.
~ ~ ~
The Sounds of Brazil is always 'Live!'! We broadcast in CD quality every hour of every day, including The Midday Show with Scott Adams (9 am – 3 pm CT, M-F) and our jazzy 'Quiet Nights' show every weeknight starting at 8 pm CT. Click here to Listen Live and for the complete schedule.
~ ~ ~
Tuned In: Don't forget that here in Chicago you can listen to The Sounds of Brazil's weekly show every Sunday afternoon at 2:00 pm on 90.9 FM WDCB. The playlist for this week's show is below.

Order your favorite songs from this program.
Copy & Paste them into our e-mail message box by clicking here.
We'll respond to your request quickly!
This week's show:
'Long Songs: The Winter Edition'
Hour 1:
Set 1: The Sounds of Brazil Opening Theme
Latin Lovers<>Lee Ritenour/Festival
Coisa Mais Linda<>Carlos Lyra/Bossa Nova Sua Gente
Welcome to The Brazilian Club Lounge
Underneath The Face of the Moon<>Kevyn Lettau/Universal Language
Special Announcement
Set 2:
Introduce Next Set
Everybody Let's Go<>Seu Jorge/Musica Par Chruassco, Vol 2
Sexy Bossa<>Latin Vibe/Chill Classics
Aguas De Marco<>Boney James/Shine
Mercy Street<>Leila Pinheiro & Ze Bruno/Big Circle
Set 3: Introduce This Week's Spotlight Song
Also Sprach Zarathustra/Theme From 2001<>Deodato/Prelude
Escape<>Marcos Valle/Best of Marcos Valle
'Long Songs: The Winter Edition'
Hour 2:
Set 1:
Last Summer In Rio<>Azymuth/Telecommunication
Welcome To Our Second Hour
Like A Lover<>Al Jarreau/Symphonic Bossa Nova
Awakening<>Francois K w/Barbra Mendes/Bossa Tres Jazz 2
Special Announcement
Set 2:
Introduce Next Song
Aquarela<>Lila & Rhythmic Control/ Brazilian Chill Sessions
Blue Bossa<>Torcuato Mariano/Brazilian Nights
Salt Song<>Stanley Turrentine/Salt Song
Special Announcement
Come With Me<>Tania Maria/Come With Me
Set 3:
Caberet da Sereia<>Flavio Venturini/Noites Com Sol
~ ~ ~
Next week, Our Warmth of Brazil theme continues with 'Songs In The Feminine Key'. I hope you'll enjoy the show and please – tell a few friends about us on 90.9 FM WDCB in Chicago and wdcb.org, 2 pm CT every Sunday It's always great to share the music.