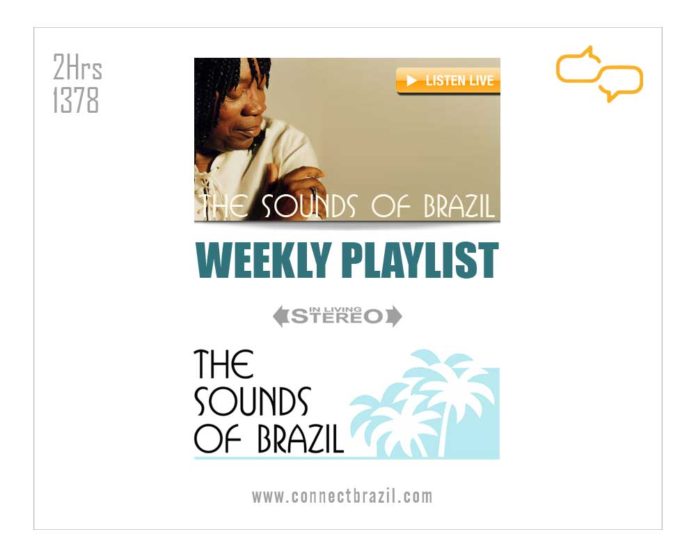 Program #1378 – 'Fan Favorites – Milton Nascimento'
'Fan Favorites – Milton Nascimento' airs daily on our streaming Station from 10-24-18 through 10-30-18 Monday-Friday at 7 am, 3 pm, 6 pm and midnight Central Time (US). Weekends, too.
On The Radio: Listen to The Sounds of Brazil every Sunday, 2-4 pm on Chicago's 909. FM WDCB, and Sundays at 7 pm and Wednesdays at 5 pm on Brasil Radio, 93.1 FM + 810 AM in Orlando FL. Click here for a complete list of our affiliate stations.
Every broadcast edition of The Sounds of Brazil is a special one, but it's always a wonderful treat when our playlist turns to the music of one the world's most creative and uniquely beautiful voices: Milton Nascimento.
For many, Milton Nascimento's unique voice defines the true spirit of Brazil: from his deep, rich tenor to one of the most powerfully stimulating falsettos you'll ever.
Nascimento burst upon the Brazilian music scene in 1963 and he's actually led two careers.  As a songwriter, he has composed compelling melodies which quickly became anthems of modern Brazilian music.
But Milton is also a vocalist with a sound so earthy and natural that his gorgeous falsetto range always comes as a thrilling shock: it seems to have been touched by angels.
Most often, Milton has forged these two talents into eerily beautiful performances of his own unforgettable songs.
I'll admit it: this playlist was a lot of fun to put together. It captures many favorites from his long career – including duets with Sarah Vaughan, Wayne Shorter and Peter Gabriel.
Jazz great Stanley Turrentine picks up his tenor sax to blow one of his best recordings (Nascimento's 'Salt Song') while Jorge Continentino of UZ22 plays the same instrument to cap off Milton's 'Cais' with loving emotion.
There's more: I'll share a surprising story about Milton's early American roots (one that even the most diligent of web searches might fail to pull up).
I hope you'll enjoy the show this week!
Happy Listening,
Scott Adams
Hour 1:
Set 1: The Sounds of Brazil Opening Theme
Bird of Beauty<>Marilyn Scott/Take Me With You
Conmigo<>Daniela Mercury & Deodato/We All Love Ennio
Consolação<>Baden Powell/Personalidade
Welcome to the Lounge            
Morro Velho (Old Hill)<>Milton Nascimento/Yauarete'
Special Announcement
Set 2:
Introduce Our Next Set
Bridges<>Milton Nascimento/Courage
Clube Da Esqunia 2<>Flavio Venturini/Noites Com Sol
Introduce Next Set                           
Esquecimento<>Skank/Velocia
Nao Estou Bem Certa<>Marina/Marina Lima
Vendedor de Sonhos<>Ornelas & Leao/Songs of Nascimento
Set 3: This Week's Spotlight Song
Life Goes On<>Eliane Elias/A Long Story
Termos e Condicoes<>Erasmo Carlos/Amor É Isso
Children's Games<>Singers Unlimited//Oscar Peterson Trio

Hour 2:
Set 1:
Estrada Do Sol<>Danilo Caymmi w/Stacey Kent/Canta Jobim
Salt Song<>Stanley Turrentine/Salt Song
Welcome To Our Second Hour
Anima<>Milton Nascimento/Anima
Stand Up Paddle Girl<>Gabriel Martins/Mergulho
Cinnamon & Clove<>Sergio Mendes/Arara
Special Announcement
Fixação<>Sound Behavior/Brazilian Chill Sessions
Set 2:
Introduce Our Next Set
Nos Dois<>Milton Nascimento/A Barca Dos Amantes
Tender Storm<>John Klemmer/Brazilia
Introduce Next Song
Love And Passion<>Sarah Vaughan/Brazilian Romance
Cais<>UZ22/Renascimento
Qualquer Coisa Com O Paraiso<>M. Nascimento/Angelus
Set 3:
Introduce Our Final Set
Maria Maria<>Milton Nasciemnto/Clube Da Esquinha 2
Mountain Flight<>Toninho Horta/Diamond Land