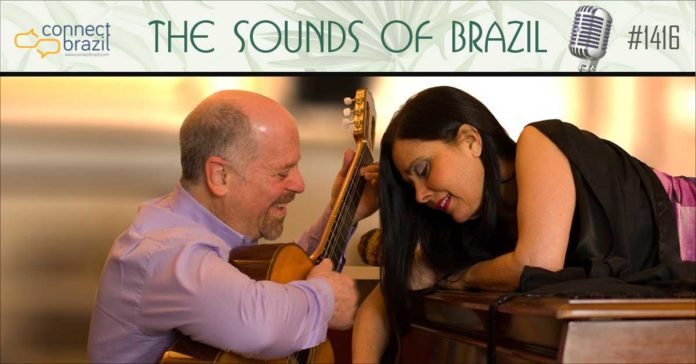 PROGRAM #1416 – MINAS BRAZILIAN JAZZ
'Minas Brazilian Jazz' airs daily on our streaming station from 07-17-19 through 07-23-19 Monday-Friday at 7 am, 3 pm, 6 pm and midnight Central Time (US). Weekends, too. Our Programming Guide is here.
On The Radio: Listen to The Sounds of Brazil every Sunday, 2-4 pm on Chicago's 90.9 FM WDCB and streaming live at wdcb.org. Click here for a complete list of our affiliate stations
Hello again,
July's 'Summer Sambas' theme travels to Philadelphia this week to feature the husband and wife duo of Minas and their latest album, Symphony In Bossa, plus I'll have 'first to know' info to share about their upcoming new album, too!
Longtime fans are very familiar with the music of Orlando Haddad and Patricia King, who created the closing theme for our radio show.
From the very beginning, the Philadelphia-based group Minas has enjoyed a special relationship with The Sounds of Brazil. I selected their 'Dream Of Brazil' as the closing theme for my radio show back in 1992.
It was an easy decision: Orlando Haddad and Patricia King were immediately generous with their enthusiasm and support for The Sounds of Brazil and we've kept our musical relationship over the years.
Read Minas A Brazilian Jazz Love Story and happy listening!
~ Scott Adams
This week's featured album on The Sounds of Brazil's banner is 'Bossa Nova Day' by Minas. Learn more here.
~ ~ ~
Love the music? Like our page at Facebook. Click here then share The Sounds of Brazil with your friends. You'll have my thanks!
~ ~ ~
Feed your Inner Bossa by experiencing the life and times of Bossa Nova's birth in Rio de Janeiro. Bossa Nova's most important book makes for a great summer read: it's almost like being there!
~ ~ ~
Make a date with the Events page at Connect Brazil: Live music, a new restaurant, outdoor party or art showing, chances are you'll find it on our website, or add it yourself… it's always free! And we're adding more every day! Music, Travel, Friends & Fun! From our home page on your computer, tablet or smart phone.
~ ~ ~
Sunday's Brazilian Brunch always features the softer side of Brazilian song. Reimagine your Summertime Sundays. Only on our streaming station. Join us 'Live' Sundays only, for three full hours beginning at 5 am and 9 am Central and then again at 2 pm and 8 pm from the player.
~ ~ ~
Requests pay off because you get to hear your name and song on The Sounds of Brazil, and maybe even win a Brazilian CD for yourself and a friend when I play yours. Request a song, artist or style when you visit the Lounge to place a request!
~ ~ ~
'MINAS BRAZILIAN JAZZ'
Hour 1:
Set 1: The Sounds of Brazil Opening Theme
Parabens<>Marcos Valle/Gilles Goes To Brazil
Latin Storm<>Jack Jezzro/Brazilian Nights
Corcovado<>Sarah Vaughan/Heartbreakers OMPS
Welcome to the Brazil Club Lounge
Dream of Brazil<>Minas/Dreams of Brazil
Special Announcement
Set 2:
Introduce Our Next Set
Temporal<>Minas/Bossa Nova Day
Antigua<>Leo Gandelman/Brazilian Soul
Introduce Next Set
Segredos<>Eliane Elias/Around The City
Jazzil<>Corcovado Experience/Bossa Now #6:After Dark
Agua De Beber<>Ulisses Rocha/Moleque
Set 3: This Week's Spotlight Song
Triste<>Minas/Symphony In Bossa
Café Caldo<>Mazachigno/Cafe Roma 2
Morena<>Yutaka/Brazasia
'MINAS BRAZILIAN JAZZ'
Hour 2:
Set 1:
Bitcoin Samba<> Roy Stephansen/Single
Slow Motion Bossa<>Clara Moreno/Morena Bossa Nova
Welcome To Our Second Hour
Zingaro<>Antonio Carlos Jobim/The Composet
Everybody Loves The Sunshine/Seu Jorge
Bossa Blue<>Chris Standring/Blue Bolero
Special Announcement:
I Wish I Knew How It Would<>Nina Simone/Brazil Connection
Set 2:
Introduce Next Set
Tin Tin Por Tin Tin (Little By Little)<>Joao Gilberto/Amoroso
Chuva<>Michael Lington & Torcuato Mariano/Heat
Introduce Next Song
Feira Livre<>Minas/In Rio
Bellavista<>Barrio Jazz Gang/Spectrum
The Island<>Roseanna Vitro/Reaching For The Stars
Set 3:
Dona Flor<>Minas/Bossa Nova Day
~ ~ ~
Next Week: Which would you choose: Hot Summer Days or Hot Brazilian Nights? We'll take two full hours explore the later, because when the sun goes down, the music heats up!
I hope you'll enjoy the show and please – tell a few friends about us! It's always great to share the music.
Whether it's your radio, your computer at work or your tablet or smart phone, thanks for tuning in! I really appreciate it, and please tell a friend or two about us.
And don't forget about our weekly broadcasts in Chicago: Sundays at 2:00 pm Central on 90.9 FM WDCB and wbcb.org.
View our complete daily broadcast schedule here.
'MINAS BRAZILIAN JAZZ'
The Connect Brazil Video of the Week: