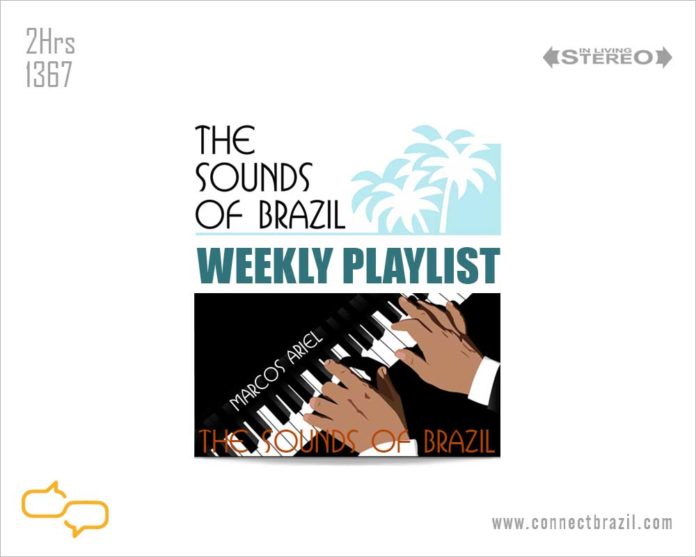 Program #1367 – 'The Best of Marcos Ariel'
'The Best of Marcos Ariel' airs daily from 08-08-18 through 08-17-18 Monday-Friday at 7 am, 3 pm, 6 pm and midnight Central Time (US). Weekends, too.
On The Radio: Listen to The Sounds of Brazil every Sunday, 2-4 pm on Chicago's 909. FM WDCB, and Sundays at 7 pm and Wednesdays at 5 pm on Brasil Radio, 93.1 FM + 810 AM in Orlando FL. Click here for a complete list of our affiliate stations.
Any trip to Rio has to include a lunch with Marcos Ariel. Truth be told, some of my most memorable meals in the Zona Sul include the easy-going keyboardist. Last time, he shared the thought of a permanent move here, but those plans are on hold, for now. So be sure to reacquaint yourself with one of Brazil's most life-loving and gregarious musical personalities this week.
It's always fun with Marcos and his music, especially when he has a new album to enjoy. You'll hear a song from his 'Americas' album in our Spotlight segment at the end of our first hour. Can't wait? Order it here!
In Rio, Marcos Ariel is known as a 'Carioca da Gema' (no, not that famous bar in Lapa; that's a different story…). He's a true carioca, not just by birth but most importantly because of his spirit and zest for life. And as so many of his longtime fans know, these qualities carry over into his music.
Always quick with a smile and a story or two, Marcos Ariel's warm smile and his easy-going nature has picked up a new fan base – and a new hobby. It turns out that he's a quite a gourmet when it comes to the art of pizza. In fact, his hand-tossed pizza parties have become a popular invite in Zona Sul.
Just think: great pizza and Brazilian jazz. What could be better?
Happy Listening,
Scott Adams, Program Host
CLICK ON ANY SONG TO ORDER FROM AMAZON. YOU'LL BE SUPPORTING THE SOUNDS OF BRAZIL WHEN YOU DO. THANK YOU!
"The Best of Marcos Ariel"
Hour 1:
Set 1: The Sounds of Brazil Opening Theme
Make This City Ours<>Marcos Ariel/Hand Dance
San Juan Sunset<>Deodato/Love Island
One Note Samba<>Nico Gomez/Lambada Dance Music
Welcome to the Lounge            
Dama Sophisticada <>Gal Costa/Gal De Tantos Amores
Special Announcement


Set 2:
Introduce Our Next Set
Green Eyes<>Marcos Ariel/My Only Passion
Heartbreak<>John Klemmer/Brazilia
Introduce Next Set                           
If I Fell<>Nando Lauria/Points Of View
Planador<><Gabriel Martins/Mergulho
Bossa Nova No Cafe<>Mayumi Kaneyuki/Mayumi Kaneyuki

Set 3: This Week's Spotlight Song
Fly Over The Horizon<>Marcos Ariel/Americas
Skin Deep<>Tiago Iorc/Zeski
Everybody's Beautiful (In Brazil)<>Bob Baldwin/Brazil Chill

Hour 2:
Set 1:
O Segundo Sol<>Baiana System with Cassia Eller
Calm<>Marcos Ariel/Magic Eyes
Welcome To Our Second Hour
E Vem O Sol<>Wanda Sa/Vagamente
Leblon<>Adam Dunning/Sunset Monkeys
Feito Pra Voce<>Celso Fonseca & Jussara Silveira/Juventude
Special Announcement
Tempo de Adventura<>Marcia/Single

Set 2:
Introduce Next Set
Out of Time<>Deodato/Summer Samba
Parabens<>Marcos Valle/Gilles Peterson In Brazil
Introduce Next Song
Don Azimuth<>Marcos Ariel/4 Friends
Anchorless<>De'Phazz/Dinner Party
Last Look<>Torcuato Mariano/Last Look
Set 3:
Amanhã<>Slowdown/Retrospectives
Andaluzia<>Roberto Vally/Pure Lines