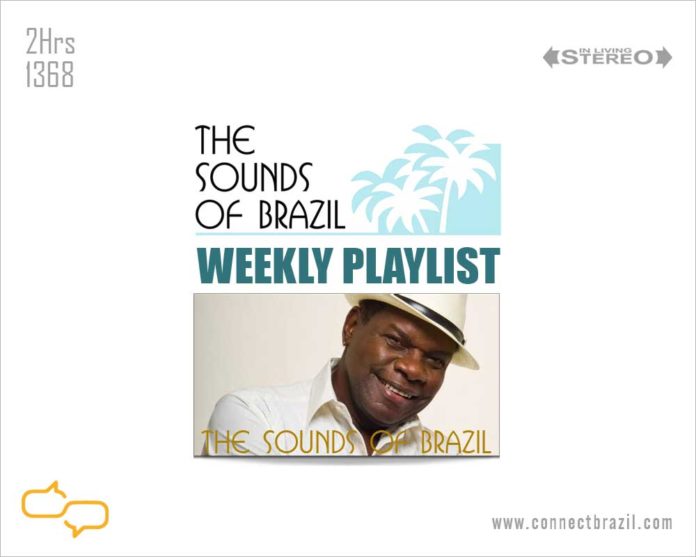 Program #1368 – 'The Best of Emilio Santiago'
'The Best of Emilio Santiago' airs daily from 08-15-18 through 08-21-18 Monday-Friday at 7 am, 3 pm, 6 pm and midnight Central Time (US). Weekends, too.
On The Radio: Listen to The Sounds of Brazil every Sunday, 2-4 pm on Chicago's 909. FM WDCB, and Sundays at 7 pm and Wednesdays at 5 pm on Brasil Radio, 93.1 FM + 810 AM in Orlando FL.
The news of Emilio Santiago's passing came as quite a shock that Wednesday morning (could it really be five years?): watching the breaking coverage on TV Globo, while fielding calls and e-mails flowing north from Brazil.
Some say his sound was a throwback to Brazil's pre-Bossa 50's, when another crooner – Dick Farney – reigned supreme over the musical landscape in Rio and beyond. Farney was a staple of young carioca teens back then, on a plateau shared only by Sinatra when the topic of the day turned to the latest and greatest jazz singers.
His recordings over the last few years clearly showed that he had hit his creative stride: 'Um Jeito Diferente' ("A Different Way") paired him with guitarist and producer Ricardo Silveira for an acoustic masterpiece with songs like 'Não Me Balança Mais' ('No More Balance') while his sessions with Azymuth with 'Demais' ('Too Much') and Bossacucanova on 'E Precisio Perdoar' ('Need To Forgive') found him in more synthesized surroundings. We'll hear each of these songs this week, along with several rare and early hits.
Emilio Santiago was a good friend of The Sounds of Brazil!, and for many of us his music helped to defined a sense of our own 'Brazilian-ness'… an intimate, personal quality that many of us were surprised to discover in our musical lives.
Happy Listening,
Scott Adams, Program Host
CLICK ON ANY SONG TO ORDER FROM AMAZON. YOU'LL BE SUPPORTING THE SOUNDS OF BRAZIL WHEN YOU DO. THANK YOU!
"The Best of Emilio Santiago"
Hour 1:
Set 1: The Sounds of Brazil Opening Theme
É Preciso Perdoar<>Emilio Santiago/Our Kind Of Bossa
Border Line<>Deodato/The Crossing
See You In Rio<>Joyce/Music Inside
Welcome to the Lounge   
For Your Love<>Brazil, Inc./Bossa Now – Stevie Wonder

Special Announcement


Set 2:
Introduce Our Next Set
Voce<>Emilio Santiago/Perdido de Amor
Sexy Bossa<>Latin Vibe/Latin Vibe, Vol. 2
Introduce Next Set                           
Our Love Is Here To Stay<>Alvim & Ulder/Rhythm & Romance
So It May Secretly Begin/Pat Metheny/Still Life Talking
Linha Do Equador<>Djavan/Coisa de Acender


Set 3: This Week's Spotlight Song: Bossa 60 Video Bar
Rio<>Lucio Alves/Bossa Nova Sua Historia
Batidinha<>Antonio Carlos Jobim/Wave
É Preciso Perdoar<>Adam Dunning/Sunset Monkeys

Hour 2:
Set 1:
A Very Special Place<>Torcuato Mariano/Last Look
Doce Viver<>Emilio Santiago/Bossa Nova

Welcome To Our Second Hour
Secret<>Bebel Gilberto/All In One
Bossa Blue<>Chris Standring/Blue Bolero
Tenderly<>Emilio Santiago/Perdido De Amor

Special Announcement

Set 2:
Introduce Next Set
Linda<> Lee Ritenour & Caetano Veloso/Festival
Waters Edge<>Lee Ritenour/Smoke n' Mirrors

Introduce Next Song
Não Me Balança Mais<>Emilio Santiago/De Um Jeito Diferente
Night Rhythm<>Deodato/The Crossing
Mercy Street<>Leila Pinheiro & Ze Bruno/Big Circle

Set 3:
Água de Coco<>Emilio Santiago/ De Um Jeito Diferente