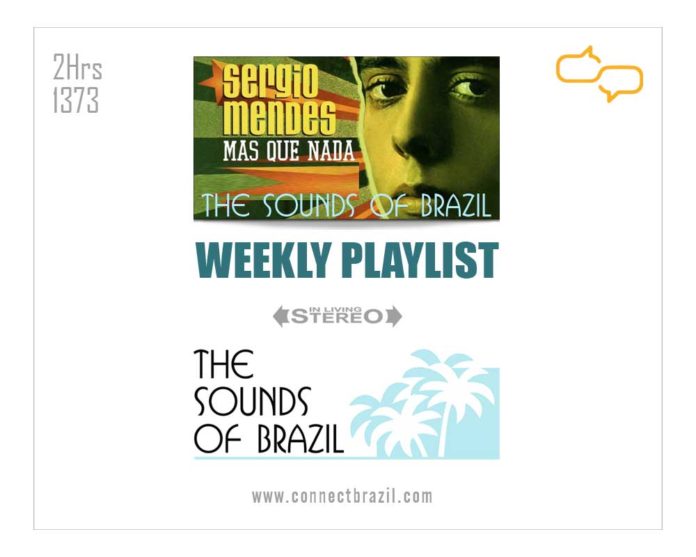 Program #1373 –  'Bossa 60: Mas Que Nada'
'Bossa 60: Mas Que Nada' airs daily from 09-19-18 through 09-25-18 Monday-Friday at 7 am, 3 pm, 6 pm and midnight Central Time (US). Weekends, too.
On The Radio: Listen to The Sounds of Brazil every Sunday, 2-4 pm on Chicago's 909. FM WDCB, and Sundays at 7 pm and Wednesdays at 5 pm on Brasil Radio, 93.1 FM + 810 AM in Orlando FL.
CLICK ON ANY SONG TO ORDER FROM AMAZON. YOU'LL BE SUPPORTING THE SOUNDS OF BRAZIL WHEN YOU DO. THANK YOU!
'Bossa 60: Mas Que Nada'
Hour 1:
Set 1: The Sounds of Brazil Opening Theme
Mas Que Nada<>Sergio Mendes/Greatest Hits
Morning Gaze<>Quetzal Guerrero/Coiza Boa
Setembro<>Quincy Jones/Back on The Block
Welcome to the Lounge
Mas Que Nada<>Marc Antoine & Patti Austin/Cruisin'
Set 2:
Introduce Our Next Set
Creepin<>Kenia/Distant Horizon
Spring Ain't Here<>Pat Metheny/Letter From Home
Introduce Next Set
Mas Que Nada<>Jorge Ben/Samba Esquema Novo
Constant Rain<>Philippe Saisse/Body And Soul Sessions
Bossa Love<>Marcos Ariel/4 Friends
Set 3: This Week's Spotlight Song:
Stage<>Alexandra Jackson/Legacy & Alchemy
Use Your Head<>Money Mark/Redhot + Rio
Blue Bossa<>Torcuato Mariano/Brazilian Nights

Hour 2:
Set 1:
First Kiss/Chante Moore/Love the Woman
Reflexões: Reflections
Welcome To Our Second Hour
Mas Que Nada<>Tamba Trio/NovaBossa
Coiza Boa<>Quetzal Guerrero/Coiza Boa
Flap<>Deodato/Skyscrapers
Special Announcement
Bahia Dawn<>Bernward Koch/Laguna de la Vera
Set 2:
Introduce Next Set
Mas Que Nada<>Al Jarreau/Tenderness
Ilha Dos Frades<>Velas/Velas
Introduce Next Song
Incendiando<>Eliane Elias/Made In Brazil
Manha De Carnaval<>Toots Thielmans/Brazil Project
Morena<>Yutaka/Brazasia
Set 3:
Introduce Last Set
Mas Que Nada<>Jessy J/Tequila Moon
Instalação do Samba<>Toco/ Instalação do Samba