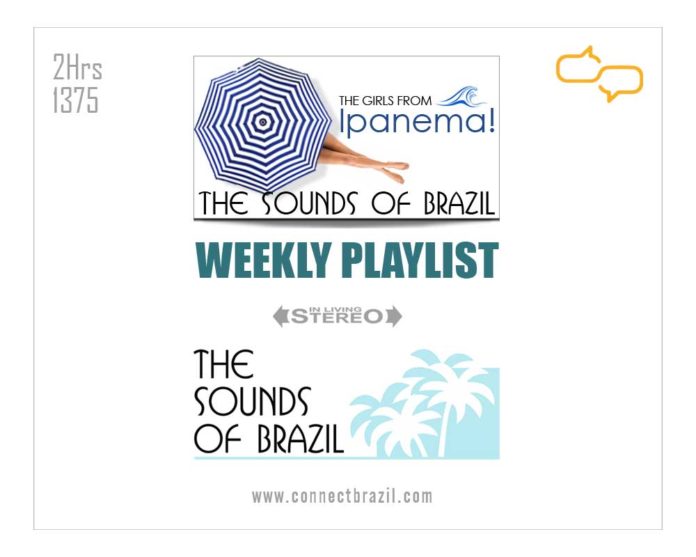 Program #1375 – 'The Girls From Ipanema'
'The Girls From Ipanema' airs daily from 10-03-18 through 10-09-18 Monday-Friday at 7 am, 3 pm, 6 pm and midnight Central Time (US). Weekends, too.
On The Radio: Listen to The Sounds of Brazil every Sunday, 2-4 pm on Chicago's 909. FM WDCB, and Sundays at 7 pm and Wednesdays at 5 pm on Brasil Radio, 93.1 FM + 810 AM in Orlando FL.
NOTE: OUR AMAZON LINK SERVICE IS NOT AVAILABLE AT THIS TIME. WE APOLOGIZE FOR THE INCONVENIENCE AND EXPECT TO HAVE IT RETURN SOON.
'The Girls From Ipanema'
Hour 1:
Set 1: The Sounds of Brazil Opening Theme
Begin The Beguine<>Gal Costa/Plural
Saudade<>Thievery Corporation/Saudade
Mas Que Nada<>Jorge Ben/Samba Esquema Novo
Welcome to the Lounge
Morrendo De Amor<>Joanna/Joanna
Special Announcement
Clube Da Esqunia (Corner Club)<>UZ22/Renascimento
Set 2:
Introduce Our Next Set
The Girl From Ipanema<>Stan Getz/Bossa Nova OMPS
My Nichole<>Indigo City/Samba Electrique
Introduce Next Song
I Can't Help It<>Torcuato Mariano/Paradise Station
Better Days Ahead<>Pat Metheny/Letter From Home
Inquietação<>Elizeth Cardoso/Ary Amoroso
Set 3: This Week's Spotlight Song:
Vento Praia Nordeste<>Zanna/Zanna
Rio De Janeiro Underground<>Romero Lubambo/Underground   5:40/C-1
Youur Smiling Face<>John Pizzarelli/Bossa Nova

Hour 2:
Set 1:
Cabriolet Causeway<>Milton Ranck/Layin Out
Linha Do Equador<>Djavan/Coisa De Escender
Welcome To Our Second Hour
Voce E Eu<>Sylvia Telles/Bossa Nova, Sua Historia Sua Gente
Bom Dia<>Roberto Vally/Boom Boom Boom
Nothing But A Song<>Tiago Iorc/Let Yourself In
Special Announcement
Rio De Janeiro<>Rosalia de Souza/Brasil Precisa Balancar
Set 2:
Introduce Next Set
Yesterday<>Zizi Possi/Bossa
Meu Amigo Ricardo<>Celia Vaz/Celia Vaz
Introduce Next Song
Brincadera<>Kenia/Initial Thrill
One Crazy Summer<>Urban Funk Society/Brasil 5000
Ben Maior (Longer)<>Roupa Nova/Agora Sim
See You In Rio<>Joyce/Music Inside
Set 3:
Introduce Last Set
Pra Illuminar<>Leila Pinheiro/Millenium
Café Roma<>Brass/Cafe Roma 3