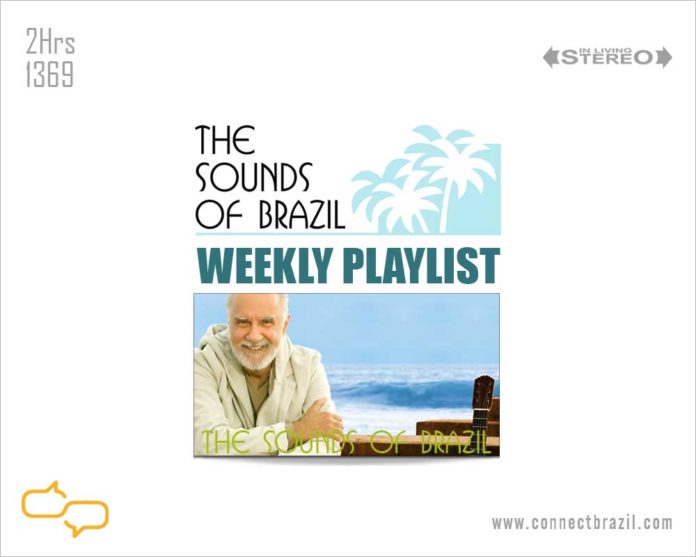 Program #1369 – 'The Best of Oscar Castro-Neves'
'The Best of Oscar Castro-Neves' airs daily from 08-22-18 through 08-28-18 Monday-Friday at 7 am, 3 pm, 6 pm and midnight Central Time (US). Weekends, too.
On The Radio: Listen to The Sounds of Brazil every Sunday, 2-4 pm on Chicago's 909. FM WDCB, and Sundays at 7 pm and Wednesdays at 5 pm on Brasil Radio, 93.1 FM + 810 AM in Orlando FL.
Today, nearly five years after his passing, Oscar Castro-Neves is a legend in the world of Bossa Nova. As a Carioca teen in the early 60's, he was part of Bossa's 'In Crowd' – Menescal, Gilberto, Mendes, Jobim and a dozen more that you might see at Copacabana's legendary Bottles Bar or at Nara Leão's late night parties at her parents nearby condo.
Oscar penned his first hit song 'Chora Tua Tristeza' (Cry Your Sadness) at 16 and when it became a national hit in Brazil – generating more than fifty covers recorded by various artists, it was a sign of things to come.
He came to the US to play Carnegie Hall in '62 and came back to stay when he signed on with Sergio Mendes as his music director in the early 70's, recording 15 albums with Mendes, several as co-producer.
Oscar became a US citizen and was also the very proud uncle of 'Dancing With The Stars' – Indy 500-winning driver, Helio Castroneves. He was a great musical friend, too.
My first meeting with him was in advance of his 'Tropical Heart' CD in 1993 – we sat down for an interview that became the basis for the album's official release.
Oscar and Helio share the Castro-Neves family trait of energized likeability, and that's an excellent introduction to yet another story for Bossa Nova's 60th birthday celebration this summer.
I hope you'll enjoy the show!
Happy Listening,
Scott Adams, Program Host
CLICK ON ANY SONG TO ORDER FROM AMAZON. YOU'LL BE SUPPORTING THE SOUNDS OF BRAZIL WHEN YOU DO. THANK YOU!
'The Best of Oscar Castro-Neves'
Hour 1:
Set 1: The Sounds of Brazil Opening Theme
Un Beijo Na Boca<>Latin Vibe/Latin Vibe
Bossa Blue<>Chris Standring/Blue Bolero
One Note Samba<>Nico Gomez/Lambada Dance Music

Welcome to the Lounge   
Never Die Young<>Luciana Souza/The New Bossa Nova

Special Announcement

A Cada Canto<>Alexia Bomtempo/Chasing Storms and Stars
Set 2:
Introduce Our Next Set
Sensivel Demais<>Jorge Vercillo/ Como Diria Blavatsky
You Are My Romance<>Oscar Castro-Neves/Tropical Heart

Introduce Next Set                           
Return To Rio<>Oscar Castro-Neves/Brazilian Scandals
Border Line<>Deodato/The Crossing
She Walks This Earth<>Sting/A Love Affair


Set 3: This Week's Spotlight Song:
Sweetest Somebody I Know<>Stevie Wonder/A Time To Love
Aula de Matematica<>Paul Winter/Brazilian Days
When I Fell In Love<>Sergio Mendes, Gracinha Leporace/Magic

Hour 2:
Set 1:
A New York Minute<>Bob Baldwin/All In A Day's Work
Entreolhares<>Ana Carolina & John Legend/Mega Hits
Motiff d'Azur<>Slowdown/Retrospectives

Welcome To Our Second Hour
Meu Mundo E Nada Mais<>Joanna/Joanna
Obrigado Donato<>Celia Vaz/Ebb & Flow
Unconditional Love<>Oscar Castro-Neves/Yesterday

Special Announcement

Set 2:
Introduce Next Set
Green Eyes<>Marcos Ariel/My Only Passion
Happiness<>De Phazz/Dinner Party

Introduce Next Song
On And On<>Stephen Bishop/Saudade
Flying To Bahia<>Caibedo Island/Caibedo Tale
Scandal No. 2<>Oscar Castro Neves/Maracuja

Set 3:
Qualquer Coisa Com O Paraiso<>M. Nascimento/Angelus
Rio<>Marcela Mangabeira/Simples