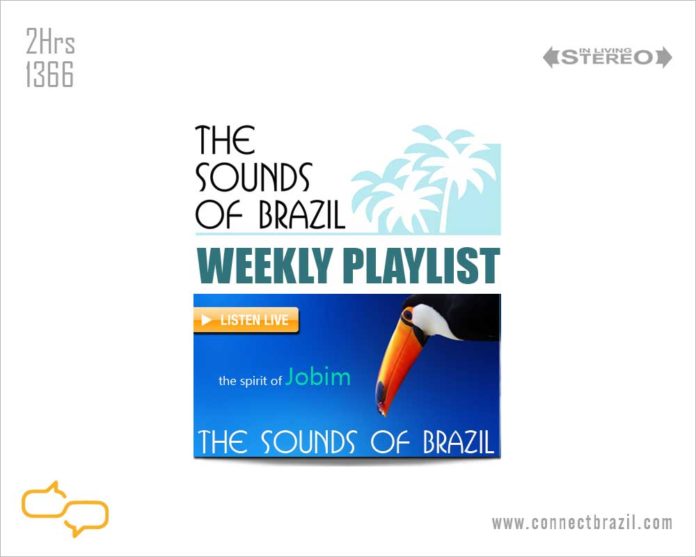 Program #1366 – 'The Spirit of Jobim'
'The Spirit of Jobim' airs daily from 08-01-18 through 08-07-18 Monday-Friday at 7 am, 3 pm, 6 pm and midnight Central Time (US). Weekends, too.
On The Radio: Listen to The Sounds of Brazil every Sunday, 2-4 pm on Chicago's 909. FM WDCB, and Sundays at 7 pm and Wednesdays at 5 pm on Brasil Radio, 93.1 FM + 810 AM in Orlando FL. Click here for a complete list of our affiliate stations.
Antonio Carlos Jobim was born on January 25th, so this "half-way point" in his personal year gives us the chance to get back in touch with his musical legacy. I've programmed 10 Jobim favorites into this week's program with instrumentals plus vocals in English and Portuguese from jazz and pop musicians worldwide and, of course, Antonio Carlos Jobim himself.
This week's theme continues on our homepage at Connectrbazil.com with another story from our 'You Can Do This' series: "Shadowing The Spirit of Jobim'. Don't pass up the chance to read it when you get a chance, and please feel free to share it with your friends, too.
It's Bossa Nova's 60th birthday! Can you think of a better reason for a summerlong celebration?
Happy Listening,
Scott Adams, Program Host
CLICK ON ANY SONG TO ORDER FROM AMAZON. YOU'LL BE SUPPORTING THE SOUNDS OF BRAZIL WHEN YOU DO. THANK YOU!
"The Spirit of Jobim"
Hour 1:
Set 1: The Sounds of Brazil Opening Theme
Brasil Nativo<>Antonio Carlos Jobim/Passarim
Inspired by Antonio Carlos<>Soulstance/Act On!
Quiet Nights<>Sarah Vaughan/Heartbreakers OMPS
Welcome to the Lounge            
Bom Motivo<>Toco with Rosalia de Souza/Outro Lugar
Special Announcement


Set 2:
Introduce Our Next Set
Border Line<>Deodato/The Crossing
Winelight<>Trio da Paz/Somewhere
Introduce Next Set                           
If You Leave Me Now<>Ive Mendes/Ive
Doin' Time In St. Tropez<>Camiel/On A Day Like This
Serrado<>Grooveria/Havaianas

Set 3: This Week's Spotlight Song
Estrada Do Sol<>Danilo Caymmi w/Stacey Kent/Canta Tom
Estrada Branca<>Til Bronner/That Summer
Leblon<>Bill Cunliffe/Bill In Brazil

---
It's Bossa Nova's 60th Birthday! Read all about it with our Bossa 60 StoryStream.
---
Hour 2:
Set 1:
The Waters of March<>Basia/Clear Horizon – Best of Basia
Welcome To Our Second Hour
Batidinha<>Antonio Carlos Jobim/Wave 
Se<>Djavan/Coisa De Acender
Vento Praia Nordeste<>Zanna/Zanna
Special Announcement
Only The Moon And The Stars<>Minas/Blue Azul

Set 2:
Introduce Next Set
Dindi<>El DeBarge & Art Porter/A Twist of Jobim
Wave<>Ettore Strata/Symphonic Bossa Nova
Introduce Next Song
Nothing Without You<>Astrud Gilberto/Plus
Demais<> Emilio Santiago & Azymuth/Brazilian Soul
Desafinado<>Kenny G/Classics In The Key Of G

Set 3:
Brazilian Heart<>Machan/Machan
Café Jobim<>Lawson Rollins/Infinita