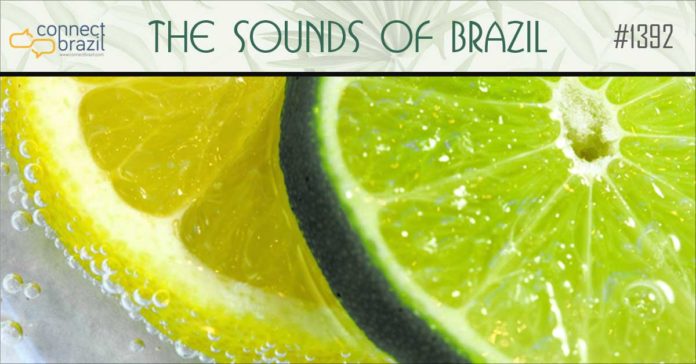 Program #1392 – The Best Brazilian Duets
The Best Brazilian Duets airs daily on our streaming Station from 01-30-19 through 02-05-19 Monday-Friday at 7 am, 3 pm, 6 pm and midnight Central Time (US). Weekends, too.
On The Radio: Listen to The Sounds of Brazil every Sunday, 2-4 pm on Chicago's 90.9 FM WDCB and streaming live at wdcb.org.  Click here for a complete list of our affiliate stations.
Brrrr!
Ah, the warmth of Brazil! It's no accident that one our 'warmest' shows of the year is set to debut on the Century's coldest day in dozens of states across America.
The last week in January (give or take a few days) is traditionally Winter's most frigid period, holder of many record-setting 'negative' numbers. And now, a mid-winter warm-up!
See how much planning we put into The Sounds of Brazil each week? 🙂
But this week, it's all about 'Duotones', where we'll double up the music with top duets featuring 16 handpicked favorites. Duets of all kinds: in Portuguese, English, bilingual… even instrumental. Click here for more on this program.
It's the warmth of Brazil x the power of two this week on The Sounds of Brazil!
Happy Listening,
Scott Adams
Bone-chilling cold in the days ahead begs for a seasonal Brazilian treat so try an easy recipe for Warmed Brazilian Spiced Cider, my original take on Brazil's traditional Quintao, click the image below for how to do it, along with the story behind this one-of-a-kind sipper, plus a perfectly-paired song, too! Of course.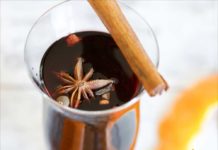 Make A Reservation to join me for The Sunday Brazilian Brunch. It's perfect for smoothing out the bumps of a busy week. Three full hours every Sunday beginning at 5 am Central, and then again at 9 am, 2 pm and 8 pm. No app needed when you click the 'play' arrow at the bottom of every page at Connectbrazil.com.
This Sunday, we'll celebrate a birthday for Rio's keyboard master, Marcos Ariel with plenty of his best songs.
~ ~ ~
Our Streaming Station's popular Brazil Back2Back segment has growen to a third play every Monday, Wednesday and Friday. Listen at 11 am, 2 pm and 5 pm Central.
Always two of a kind, and always two in a row! Have an idea for an upcomiong Brazil Back2Back? Click here to make a request.
The Best Brazilian Duets
Hour 1: 
Set 1: The Sounds of Brazil Opening Theme
Maracatu (Nation of Love)<>Sergio Mendes/Bom Tempo
Easy Ridin'<>Leo Gandelman/Western World
Bluesette<>Victor Fields & Claudia Vilella/52nd Street
Welcome to The Brazilian Club Lounge
Feito Pra Voce<>Celso Fonseca/Juventude
Special Announcement
 
Set 2:
Voce<>Dick Farney & Norma Bengal/Bossa Nova Sua Historia
Brazilia<>Wayman Tisdale/Face To Face
Somos Todos Iguias Neste Noite<>Ivan Lins & Djavan
Introduce Next Set
Sorte<>Gal Costa & Caetano Veloso/Novela Hits
Carinhoso<>Helio Delmiro-Cesar Camargo Mariano/Brasil Inst
Back At One<>Brian McKnight & Ivete Sangalo/Millennium
Set 3: Introduce This Week's Spotlight Song
Aguas De Marco<>Elis Regina & Jobim/Elis & Tom
Jureia<>Joao Parahyba/The New Lambadas
Beach In My Mind<>Superpulse/Brasil 5000
Four Unique Channels From Connectbrazil.com
The Best Brazilian Duets
Hour 2: 
Set 1:
Boa Sorte (Good Luck)<>Vanessa da Mata & Ben Harper/Sim
Welcome To Our Second Hour
The Girl From Ipanema<>Stan Getz/Getz-Gilberto
Estrada Branca<>Til Bronner/That Summer
Rainha<>Toco & Nina Miranda/Memorias
Special Announcement
Set 2:
Stay<>Kenny Rankin & Rossa Passos/Here In My Heart
Menina Moca<>Kenny G/Brazilian Nights
Introduce Next Song
Love & Passion<>Sarah Vaughan/Brazilian Romance
Café Jobim<>Lawson Rollins/Infinita
Ciranda<>Marcio Faraco/Ciranda
Set 3:
You Moved Me<>Ivan Lins & Brenda Russell/Love Dance
Cata-Vento<>Riovolt w Ju Cassou/Sambarama
Inspired by Antonio Carlos<>Soulstance/Act On!
~ ~ ~
Next Week:
It's a pair of Brazilian piano birthdays for 'The Best of Antonio Adolfo and Sergio Mendes'!  Be sure to listen and you're invited to make a request or drop a note in the Chat Box on our Lounge page, too!
The Best Brazilian Duets on The Sounds of Brazil