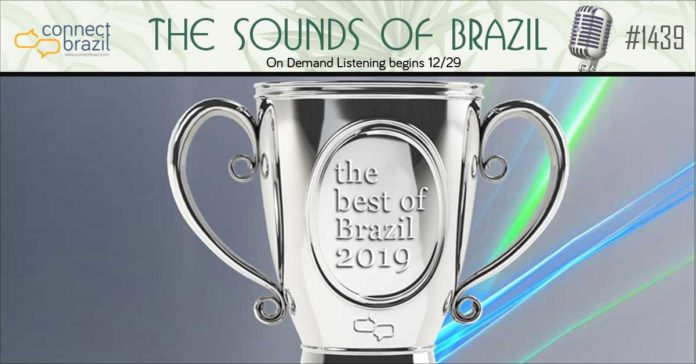 Live365.com is the Official Streaming Radio Partner for The Sounds of Brazil!
'The Best of Brazil 2019' airs daily on our streaming Station from 12-26-19 through 01-01-20 Monday-Friday at 7 am, 3 pm, 6 pm and midnight Central Time (US). Weekends, too. On The Radio: Listen to The Sounds of Brazil every Sunday, 2-4 pm on Chicago's 90.9 FM WDCB.
Click here for a complete list of our affiliate stations. Use our time zone converter to find your local time.
On Demand: This program is available for repeat listening from December 29th to January 12th, 2020.  Click here to Listen.


~ ~ ~
Here they are! The year's best Brazilian songs! The best Brazilian concerts, stories, and events from 2019. Our annual Best of Brazilian Music Showcase is waiting for you right now!
~ ~ ~
Join Our List and the next issue of our Connect Brazil e-letter will find its way to your inbox with the latest music news, concerts and more. Sign up here!
The Best of Brazil 2019
Hour One
Set 1:
Todo Dia<>Atlantica/Always
A Pata da Preta<>Torcuato Mariano/Escola Brasileira
Wave<>Joao Gilberto/Amoroso
Welcome to the Lounge
Boa Sorte (Good Luck)<>Vanessa da Mata & Ben Harper/Sim
Set 2: "And welcome back to The Sounds of Brazil!"
Eu Sambo Mesmo<>Daniela Soledade/A Moment of You
Northern Lights<> Roy Stephansen/single
Introduce Next Set
Love Dance<>Ivan Lins/Live at MCG
Maçã<>Café Jam/Café Jam
Sem Voce<>Cecy Santana/Single
Set 3: Introduce This Week's Spotlight Song
Olha Quem Ta Chegando<>Marcos Valle/Sempre
Sorte<>John Finsbury with Thalma de Freitas/Sorte!
The Best of Brazil 2019
Hour Two
Set 1:
Menina Moca<>Kenny G/Brazilian Nights
Welcome Back To Our Second Hour
Adriana<>Carla Hassett/Single
Sanguessuga (Distant Horizon)<>Tamba Trio/14 Greatest Hits
Nas Minhas Maos<>Jorge Vercillo/Nas Minhas Maos
PROMO
Certeza<>Mariana Nolasco/Single
Set 2: Introduce Next Set
Tristeza De Nos Dois<>Antonio Adolfo/Samba Jazz Alley
O Que é o Amor<>Roberta Campos/O Que é o Amor
Introduce Next Set
Big Sur Cruise<>Marcos Ariel/Wave Hunter
Baby Come To Me<>Eliane Elias/Love Stories
O Que Faltou<>Ziggy Blue Featuirng Natalis/Single
Set 3: Introduce Final Set
Cariocas<>Mahmundi/Nada Ficou No Lugar
Morro da Paixao<>Ricardo Peixoto/Scary Beautiful
The Best of Brazil 2019