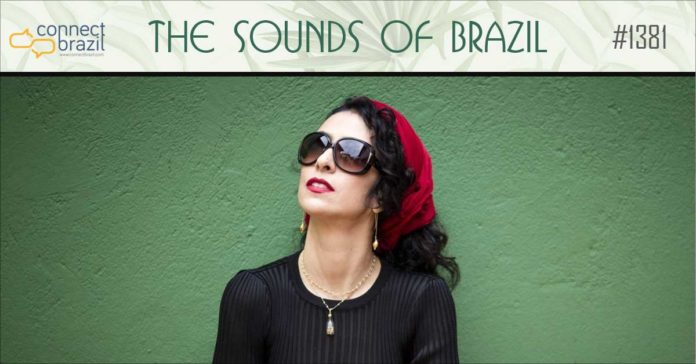 Program #1381 – 'The Best of Marisa Monte'
'The Best of Marisa Monte' airs daily on our streaming Station from 11-14-18 through 11-20-18 Monday-Friday at 7 am, 3 pm, 6 pm and midnight Central Time (US). Weekends, too.
On The Radio: Listen to The Sounds of Brazil every Sunday, 2-4 pm on Chicago's 90.9 FM WDCB, streaming live at wdcb.org (8 pm GMT). Click here for a complete list of our affiliate stations. Use our time zone converter to find your local time. 
Welcome to The Sounds of Brazil!
It's official: There's already more snow covering more of the country than last year; ditto for the cold and below normal temps… and we haven't even reached Thanksgiving! Well, the warmth of Brazilian Jazz will push all of our weather worries aside with a 'best of' show for Brazil's greatest Diva… two full hours of singer Marisa Monte for The Sounds of Brazil this week (even more when you click here!).
But first, let's catch up with a few timely tips for the week ahead:
Marisa Monte and Tribalistas have just announced thier US Concert Tour dates for early 2019. Get the Connectbrazil.com concert guide with complete details here.
~ ~ ~
Join us for The Sunday Brazilian Brunch: Perfect for smoothing out the bumps of a busy week. Three full hours every Sunday beginning at 5 am Central, and then again at 9 am, 2 pm and 8 pm. No app needed when you click the 'play' arrow at the bottom of every page at Connectbrazil.com.
This Sunday, I'll feature two of our Sunday Brunch vocal favorites: singers Celso Fonseca and Jane Duboc both celebrate birthdays this week.
~ ~ ~
Our Christmas programming begins on Thanksgiving Day, which also marks the beginning of our streaming station's fifth year. Plus, you're just a click away from all ten of our streaming channels including our 'Brazilian Christmas' channel, too.
Always Live Always Free. Happy holidays when you click the 'Streaming Music' tab at the top of any page at Connectbrazil.com!
~ ~ ~
Eliane Elias brought down the house at City Winery Chicago on Tuesday: kicking off a seven-month US Concert Tour. I've written about what inspires Eliane Elias, her stunning career and where she'll be playing in the days, weeks and months ahead!
Learn more about Eliane Elias and her 2018-2019 US Concert Tour.
~ ~ ~
Happy Listening,
Scott Adams
'The Best of Marisa Monte'
Hour 1:
Set 1: The Sounds of Brazil Opening Theme
Slow Motion Bossa<>Clara Moreno/Morena Bossa Nova
Stand Up Paddle Girl<>Gabriel Martins/Mergulho
É Preciso Perdoar<>Emilio Santiago/Nossa Onda É Essa
Welcome to the Lounge            
Infinito Particular<>Marisa Monte/Infinito Particular
Special Announcement
Set 2:
Introduce Our Next Set
Bem Que Se Quis<>Marisa Monte/MM
Cigano<>Djavan/Puzzle of Hearts
Introduce Next Set                           
Only A Dream In Rio<>James Taylor/That's Why I'm Here
Flying To Bahia<>Caibedo Island/A Caibedo Tale
Eu Sei<>Marisa Monte/Mais
Set 3: This Week's Spotlight Set – Brazil Back2Back: Eliane Elias Concert Preview
Diáspora<>Tribalistas/ Tribalistas (2017)
Aruba<>Cesar Machado/Brazilians Love Jazz
Sweet Presence<>Dianne Reeves/A Love Affair/Ivan Lins

Hour 2:
Set 1:
Na Estrada<> Marisa Monte/Rose And Charcoal
Welcome To Our Second Hour
High Night<> Til Bronner with Melody Gardot/Rio
Bossa Blue<>Chris Standring/Blue Bolero
Universo Ao Meu Redor<>Marisa Monte/Universo Ao Meu
Special Announcement
Set 2:
Introduce Brazil Back2Back: Bahia Jazz
Maria De Verdade<>Marisa Monte/Rose & Charcoal
Spirits Of The Forest<>Leo Gandelman/Visions
Introduce Next Song
She Walks This Earth<>Sting/A Love Affair
Mariana<>Torcuato Mariano/Diary
Nunca Mais<>Joao Donato & Marisa Monte/Managarroba
Set 3:
Introduce Our Final Set
Noturna<>Silva with Marisa Monte/Silva Canta Marisa
Morning<>Azymuth/Butterfly
Blackbird<>Brazil & Beyond/Beatles
Driving Ambition<>Eliane Elias/Made In Brazil
[Program Ends]