Time to Change!  Sunday, both the United States and Brazil will experience an event in time that's rarely occurred: The two countries will each move in or out of Daylight Savings Time in almost simultaneous fashion.
by Scott Adams
It's an amazing confluence of clock coincidence.
Running on 'Brazilian Time' usually means a more relaxed pace to the day. But in this case, we here on the northern side of the equator will fall back one hour while our Samba -loving friends in the southern hemisphere will 'Spring Ahead' one hour, and we'll all do it this weekend.
In order for time to change, the USA leaves Daylight Savings Time at 2:00 am local time early Sunday morning. Meanwhile, Brazil will enter DST at midnight local time.
This means that cities like Rio de Janeiro, São Paulo and Brasilia moved ahead of US cities by two additional hours, making the time difference in New York three hours, Chicago four hours, and Los Angeles by six hours.
Music, travel, friends and fun! Get the Connectbrazil.com e-letter.
Time for College Exams
Until now, the biannual time change for our two countries was separated by about 21 days. So what caused the change?
High School exams in Brazil may have had something to do with it. Less than a month ago, it was suggested that Brazil would move its DST date to November 18th, giving time to change the impact of DST during the country's most important university entrance exam, set for the week of November 4-11.
Two weeks later, The Brazilia government confirmed the official date as November 4th, 2018
Half do, Half Don't
While all of the United Sates will observe Standard Time, there's been a shift away from DST in Brazil's northern states, due to their proximity to the equator. So, basically the northern half of the country remains on Standard time, including the cities of Salvador, Manaus, Recife, Fortaleza, Belem and Natal.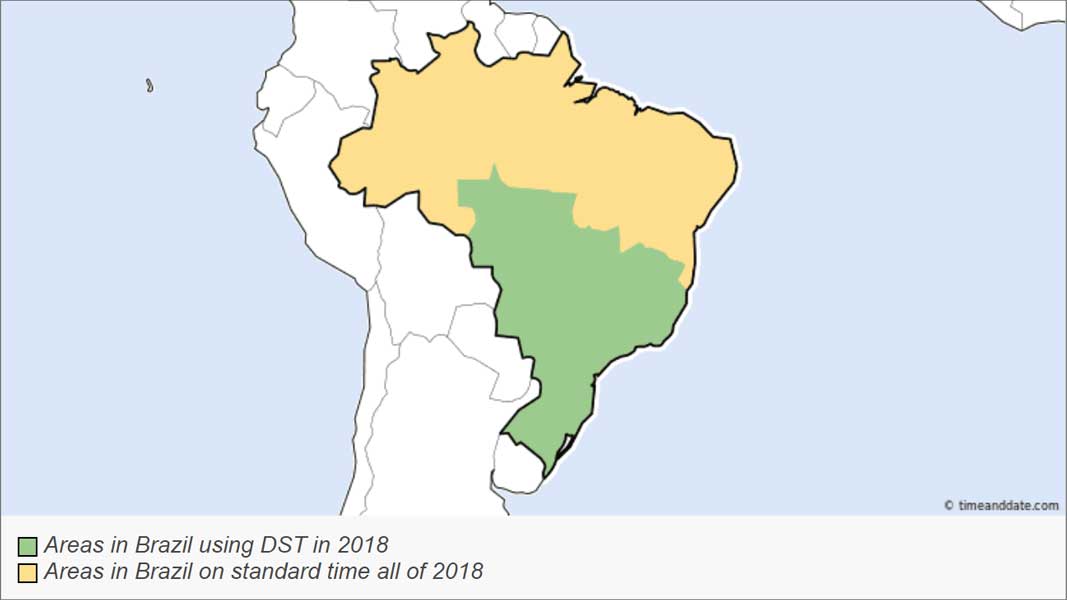 Brazilian states taking the time to change by observing DST include:  Brasilia (Distrito Federal), Espírito Santo, Goiás, Mato Grosso (partial), Mato Grosso Do Sul, Minas Gerais, Paraná, Rio de Janeiro, São Paulo, Santa Catarina and Rio Grande do Sul.
Something to keep in mind for business or leisure activity, or when calling friends and family.
DST will end in Brazil on February 17th 2019. America will begin Daylight Savings Time on March 10th, 2019.
Finally, Seven Things To Do In Both Countries
Reset all of your clocks. Don't forget the car and your microwave.
Sort through your Brazilian music to freshen-up your personal playlists!
Set lights to turn on when you need them, smart lights, too.
Get turned on to light therapy, especially for those moody Standard Time months.
Update your Smart Home routine and IoT devices
Time to change those smoke alarm batteries, right?
Change your home's air filters for a clean start to the time change season.