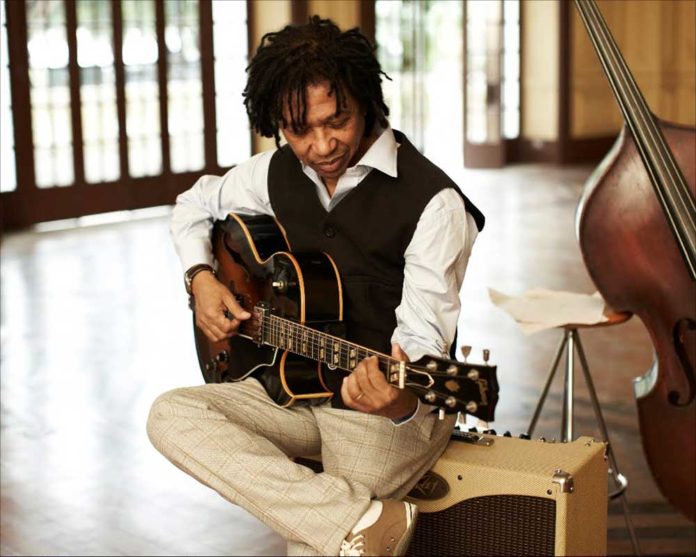 Warming up to Djavan is essential when Mother Nature and Old Man Winter team up to remind us that global warming is a man-made construct. But then, so is the music of this one man and when you listen to him sing, the warmth rekindles once again.
by Scott Adams
South America's hump belongs to Brazil, and roughly halfway between Salvador and Natal lies the coastal city of Maceió. Flyover country, except for the 3.5 million people born and raised in the capital city of Alagoas.
One of them is Djavan Caetano Viana. We know him best by his first name.
Almost, but not quite
I keep coming up short with Djavan when it comes to my bucket list for Brazilian Concerts.
One year, I missed him by a single day in Rio de Janeiro, another time I received a refund when he cancelled a São Paulo show due to illness.
Then there was the time I had planned to see him in Miami before he called off his flight and subsequently a multi-city US tour.
Los Angeles? Fine. New York? Okay, but here in the icy grasp of another character-building Chicago winter, warming up to Djavan 'live' just isn't as easy as it could be.
One of our premier outdoor venues had an opportunity a few years ago but they opted for Gilberto Gil instead, and most recently his asking price was too high for another supportive venue. Not unusual, that's just business.
With a track record like that, you'd think I'd be frustrated. But the truth is that with Djavan, none of that matters.
Because when it come to the magic of Brazilian MPB, few can come close to the sheer joy I feel whenever I hear one of his songs.
To my way of thinking, this musical macumba applies to a select few of Brazil's star performers – and its generational, belonging to those singer/songwriters that have purposefully defined Brazilian pop for the last 30 years.
Who's doing that today? Well, that's another story.
Get my weekly e-letter!
Trade wind trademark…
If Djavan were born in Rhode Island instead of Alagoas he'd probably be considered a crossover jazz singer (his music swings so naturally that Michael Bublé should take note).
Instead, he's in the same camp as John Legend, able to move through a myriad of styles and song forms – in English or Portuguese – with ease. You can bet Legend knows this, and loves it.
Perhaps it's no surprise that jazz, rock and Brazilian pop mingle on the radio dial and in the bars, clubs and restaurants throughout Maceió. And the trade winds? Replace Rhode Island with San Diego to shed some light on Djavan's breezy style.
Djavan's talent elevates the creativity of those around him, inspiring 'moments' that have a seemingly eternal half-life.
Two of my favorites? Trumpeter Marcio Montarroyos's opening solo on 'Cigano' and Torcuato Mariano's acoustic guitar riffs on 'Linha Do Ecuador'.
Both will make a lasting impression… and both are included in this week's show for The Sounds of Brazil: 'The Best of Djavan'. You're welcome to listen.
.
Thumbnail Reviews
So, when warming up to Djavan, you need a place to start. This week marks Djavan's birthday and here are a few choice quotes from several of my albums reviews of his music over the years:
On 'Puzzle of Hearts': "This is Djavan at the peak of his career: his voice is supple and sharp, his range matching his abilities; his standout pop songwriting is fresh and uniquely Brazilian. Listen for the bi-lingual tinge given to 'Voce Bem Sabe' – there's no doubt that Djavan knows how to get the message across no matter what language you speak."
On 'Pétala': "Djavan's talent as a singer and songwriter is such that fans didn't have long to wait for his first 'best of' collection. The playlist moves from strength to strength – as you'd expect for a 'hits' CD, – but also through the ebb and flow of the singer's emotion, and that's Djavan's calling card."
On 'Lilas': "Recorded in Los Angeles (as was his previous album 'Luz' in 1982), the music here is right on track with the American ear, and production from the great Erich Bulling plus the crème de la crème of the L.A studio scene and a host of talented Brazilians make this one of his best early recordings."
On 'Coisa de Acender': "This CD marked a reunion for Djavan with producer Ronnie Foster, who also guided the Brazilian singer's 1988 release 'Bird of Paradise' while on leave as George Benson's longtime keyboardist. This time around Foster turned away from the jazzy pop tones of their earlier project for a more authentic, swinging MPB set and in doing so, allowed Djavan to explore the seemingly limitless nuance of his own songwriting creations."
On 'Bird of Paradise': "Brazilian 'purists' often deride this recording as 'not Brazilian' and they're right. But they are also wrong: 'Bird of Paradise' remains as one of Djavan's greatest recordings. His songwriting for this project is superb – melodies range from eloquent (the title track) to poignant (Miss Susanna) to several up tempo tunes with lasting hooks, as on the horn-driven 'Take Me' (Me Leve)' and 'Maça' (Apple)."
Grammy winner, Latin Grammy winner, World-Class melody maker. Is warming up to Djavan on your bucket list, too?
It might be after this week's show for The Sounds of Brazil! If so, let me know where you'd like to meet because chances are pretty good I'll already have a ticket.
Happy Listening,
Scott Adams
Warming up to Djavan? Here's one of my favorites: