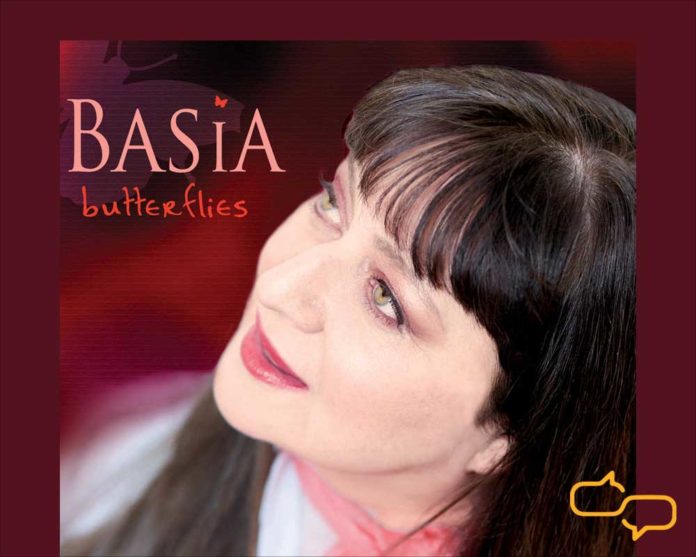 Basia Nova? 2018 has given us a new album plus an all-too-infrequent US concert tour from one of our favorite pop icons, Basia. More on both, below.
When Basia burst on the scene with Time And Tide the pop world was once again tapped on the shoulder by the Brazilian beat.
And many of her earliest fans were right here in Chicago, were she lived, thrived and finally 'arrived' musically – just ahead of her debut album.
And while her rhythms are not purely Brazilian, they are always 'Basia Nova' and the musical message was clear. We've selected several of her best to share with you on The Sounds of Brazil this week.
Add Toco's tunes from Italy, Brazilian guitarist Ulisses Rocha and classics from Djavan and pianist Luis Eça and this show is sure to become another great way to ward off Autumn's chill.
Basia hit the pop music scene only a few weeks after I returned from my first visit to Brazil in 1987, and I guess you could say that her 'Basia Nova' style was a great influence on me – I was an avid fan years before I began my radio show.
Just before the release of From Newport To London Greatest Hits Live…And More, Basia's steadfast producer Danny White wrote to me with an update:
"Nice to hear from you!" he writes. "I remember we did an interview and you were telling us the real story about Jobim and the 'Waters of March"! Basia and I are very happy with the songs we've recorded. As with all our albums there's a mixture of styles including a heavy Latin/Brazilian influence and my brother Peter White plays on most of the tracks. We're thinking of calling the album 'Two Islands' after one of the songs."
And if you have 'Half A Minute', you should search YouTube for Basia's live video clip of her song 'Astrud'.
Peter White wrote: "Yes, you're right! That certainly is Richard Elliot on baritone sax- he was brought in just for the Tonight Show and I think that I may have even recommended him. By the way, did anyone notice Marc Antoine on guitar? He did that tour with Basia (1987 or 1988?) as I was on tour with Al Stewart at that time."
And here's some exciting news: Shanachie Records has ushered in the latest version of 'Basia Nova': a new album by Basia. Butterflies launched on May 18th (with a new single called 'Matteo') to exciting reviews by fans and critics alike.

According to Wikipedia "The album was Basia's first studio release in 9 years. The singer has described it as an album "about love – for life, for music and for people" and her jazziest record yet.
She has also revealed that its original title was 'Be.Pop', after one of the songs and as a reference to subgenre of jazz music, but her record company wasn't keen on the idea.
To compromise, Basia suggested 'Be.Pop Butterfly', but ultimately the title was changed to Butterflies .
Two songs on the album contain the word 'butterfly', including "Liang & Zhu" which tells about the Butterfly Lovers from a Chinese legend.
The lead single from Butterflies, "Matteo", premiered on 6 April 2018."
You'll hear 'Matteo' in the second hour of our show, along with The Sounds of Brazil's own 'Best of Basia Nova' collection this week on the radio and streaming stations, along with a special, rare and unreleased recording by Basia… and the real story behind it!
Basia's 2018 US Tour started in Florida last month, before heading up the east coast and to Chicago for two sold-out shows last week.
I've posted the remaining show dates below, with a tip:
How about a four-day getaway to Hawaii to start November off on the right note? Basia Nova!
Happy Listening,
Scott Adams
Basia's 2018 US Concert Tour
OCTOBER 2018
18 USA Oakland, California – Yoshi's (2 shows) Sold Out!
20 USA Avalon, California – Avalon Ballroom (JazzTrax Festival)
23 USA San Diego, California – Humphrey's Concerts
24 USA Pasadena, California – The Rose
25 USA Hermosa Beach, California – Saint Rocke
29 USA Seattle, Washington – Dimitriou's Jazz Alley Sold Out!
30 CANADA Vancouver – York Theatre
NOVEMBER 2018
01 USA Honolulu, Hawaii – Blue Note (2 shows)
02 USA Honolulu, Hawaii – Blue Note (2 shows)