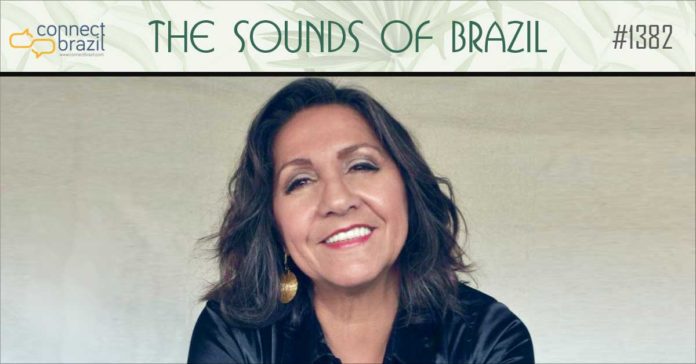 Program #1382 – 'The Best of Kenia's Brazilian Jazz'
'The Best of Kenia's Brazilian Jazz' airs daily on our streaming Station from 11-21-18 through 11-27-18 Monday-Friday at 7 am, 3 pm, 6 pm and midnight Central Time (US). Weekends, too.
On The Radio: Listen to The Sounds of Brazil every Sunday, 2-4 pm on Chicago's 90.9 FM WDCB, streaming live at wdcb.org (8 pm GMT). Click here for a complete list of our affiliate stations. Use our time zone converter to find your local time. 
Welcome to The Sounds of Brazil!
Ahhh, the sirens sing their beautiful melodies… carried on a Brazilian breeze. This week, we feature a Carioca original who now calls Pittsburgh home. It's the music of Kenia on the radio and our streaming station.
But first, let's catch up with a few timely tips for the week ahead:
Marisa Monte and Tribalistas have just announced thier US Concert Tour dates for early 2019. Get the Connectbrazil.com concert guide with complete details here.
~ ~ ~
Join me for The Sunday Brazilian Brunch: Perfect for smoothing out the bumps of a busy week. Three full hours every Sunday beginning at 5 am Central, and then again at 9 am, 2 pm and 8 pm. No app needed when you click the 'play' arrow at the bottom of every page at Connectbrazil.com.
This Sunday, I'll feature two of the best new Brazilian music for Fall, along with a light dusting of holiday favorites and a debut for Alexandra Jackson's new Legacy & Alchemy single, too.
~ ~ ~
Our Christmas programming continues daily thorugh Christmas Day, and also marks the beginning of our streaming station's fifth year. Plus, you're just a click away from all ten of our streaming channels including our 'Brazilian Christmas' channel, too.
Always Live Always Free. Happy holidays when you click the Streaming Music tab at the top of any page at Connectbrazil.com!
~ ~ ~
Connectbrazil.com is partnering with AccuRadio.com to give $30,000 to great charities during our Season of Sharing. That's a thousand dollars every day!
Click the Streaming Music tab at the top of any page at Connectbrazil.com to listen to your favorite Brazilian channels, like BossaNovaville, Brazilian Jazz or our Brazilian Christmas channel. Pick your favorite charity and we'll select one listener charity every weekday for a $1,000 donation.
Invite your friends to listen. It can make a real difference. Not help for just a few of us, but for all of us. Our Season of Sharing with AccuRadio at Connectbrazil.com!
~ ~ ~
Happy Listening,
Scott Adams
________________________________________________________
Chat Box! Post a comment, ask a question or make a request right on our Lounge page. No user name or password needed, and it's perfect on your smart phone too. Try it today!
________________________________________________________
'The Best of Kenia's Brazilian Jazz'
Hour 1: 
Set 1: The Sounds of Brazil Opening Theme
Serrado<>Kenia/Love Lives On
You Are My Romance<>Oscar Castro-Neves/Tropical Heart
The Christmas Song<>Sergio Mendes & Brasil 66
Welcome to the Brazil Club Lounge: Requests & Chat Box          
Luxo Do Lixo<>Ivan Lins/America Brasil
Special Announcement
Set 2:
Introduce Our Next Set
Brincadera<>Kenia/Initial Thrill
A Train To Uberaba<>Torcuato Mariano/Paradise Station
Introduce Next Song
Dindi<>El DeBarge & Art Porter/A Twist of Jobim
Bipolar<>Ana Clara/Single
Your Face<>Kenia/Simply Kenia
Special Announcement
Set 3: This Week's Spotlight Song: Broadcast Debut for Alexandra Jackson
Labirintos<>Alexandra Jackson/Legacy And Alchemy
What Child Is This<>Roberto Perera/Christmas Fantasies
Under The Sun<>Michael Franks/Rendezvous In Rio

Hour 2:
Set 1:
Feito Pra Voce<>Celso Fonseca/Juventude
Welcome To Our Second Hour
Sim ou Nao<>Kenia/Initial Thrill
Guaratiba<>Azymuth/Carioca
Silent Night<>Al Jarreau/Making Spirits Bright
Special Announcement
Set 2:
Introduce Next Song
Giraffe In Green<>Jun Miyake/Post Modern Bossa
Flor de Lis<>Kenia/What You're Looking For
Introduce Next Song
Voce<>Emilio Santiago/Perdido de Amor
Old City New City<>Larry Coryell/Live From Bahia
Escravo da Alegria<>Nu Braz/Sonho Bossa
Special Announcement
Set 3:
Answered Prayers<>Kenia/Ivan Lins Project
O Jardim<>Paulo Brasil/Esperenca
Me Deixa Em Paz<>Leo Gandelman/Black Pearls
~ ~ ~
Next Week: We'll kick off five consecutive weeks of 'My Favorite Things' with 'The Sergio Mendes Alumni Show: The Class of Brazil 66′. Don't miss 'em. And be sure to send me your request for your favorite song, style or musican by December 1st for our all-request show in mid-December. Drop a note in the Chat Box on our home page!
Whether it's here at Connectbrazil.com, your radio, your computer at work or your tablet or smart phone, thanks for tuning in! I really appreciate it, and please tell a friend or two about us.
And don't forget about our weekly broadcasts in Chicago: Sundays at 2:00 pm Central on 90.9 FM WDCB.