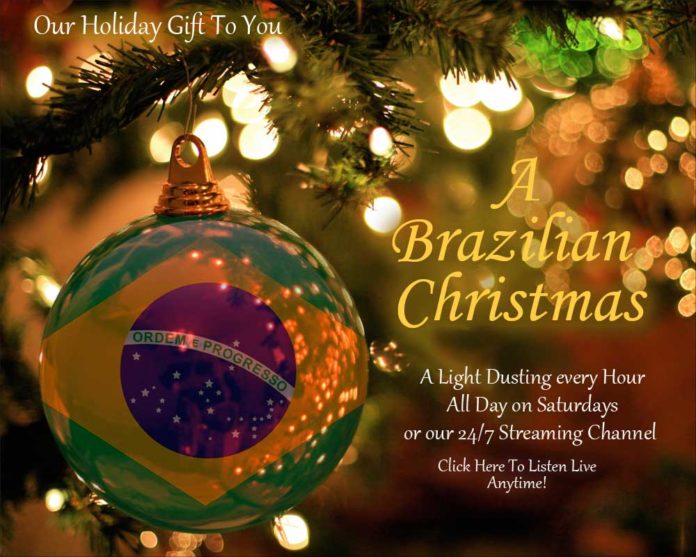 It's a Brazilian Christmas at Connectbrazil.com, and a joyous tradition for The Sounds of Brazil and for Brazilian music fans worldwide! 2018 marks our 22nd consecutive year.
by Scott Adams
Each year on Thanksgiving Day and continuing through Christmas Day, our Brazilian Christmas songs are sprinkled into every hour on our streaming station, with non-stop Brazilian Christmas Saturdays.
Plus, our 'Brazilian Christmas' streaming channel is playing 24/7 when you click here.
Unwrap 'A Brazilian Christmas' One Song At A Time
These holiday instrumentals and vocals sung in Portuguese and English are performed by Brazilians and non-Brazilians alike – a true celebration of the special relationship that Brazil shares with the world.
Our Brazilian Christmas programming is a musical way to say 'thank you' to the many Brazilian communities Connectbrazil.com serves, here in the US, in Brazil and worldwide.
Happy listening and best wishes for you, your family and friends, and those you hold dear during this holiday season.
Inspired By Oscar
I'll happily admit that I enjoy creating every daily playlist for our streaming channels at Connectbrazil.com; a lot of thought and care is put into each one.
But our annual 'Brazilian Christmas' programming is ultimately a favorite, and we have legendary Bossa Nova guitarist Oscar Castro-Neves to thank for it all.
In 1996, he created a new music label with his talented friend Miles Goodman, and they set out on their first project, a groundbreaking album of traditional Christmas songs set in the Brazilian style.
Oscar, who was for many years the musical director for Sergio Mendes, and her invited many of Brazil's top musicians to join the recording. Castro-Neves passed away in 2013 but his final recording was resurrected into Alexandra Jackson's Legacy & Alchemy album.
Instrumental stars included saxophonist Leo Gandelman and guitarists Ricardo Silveira and Toninho Horta, plus keyboardist Gilson Peranzzetta.
The vocals came from Joyce, João Bosco, Dori Caymmi, Ivan Lins, and Bebel Gilberto. The rhythm makers were Tutty Moreno, Têo Lima and Marçal
The resulting album was magical, an inspiring blend of vocals in English and Portuguese, with instrumentals to match.
Oscar's final recording is part of the Legacy & Alchemy album. Learn More.
Sadly, Goodman passed away shortly before the album's October release and the label shut down, leaving only several thousand pressings of the CD available for fans to add to their collections.
Few copies remain, and legal entanglements have kept the album from reissue, digital or otherwise. You can order A Brasilian Christmas here.

Alexandra Jackson is a Celebrity Contributor at Connectbrazil.com < 
My Gift (and my thanks) To You
Back then, The Sounds of Brazil was in its fourth year at Smooth Jazz WNUA in Chicago,  and had begun to be syndicated nationally.
Our first 'Brazilian Christmas' show aired on December 21, 1996 in more than a dozen US cities and the response was overwhelming.
A few years later our Christmas tradition expanded to the internet to reach Brazilian friends and families worldwide: each year I receive messages from Brazilians living away from their homeland, who write with their appreciation of having a musical touch of home for the holidays.
Merry Christmas and happy listening!
Scott Adams