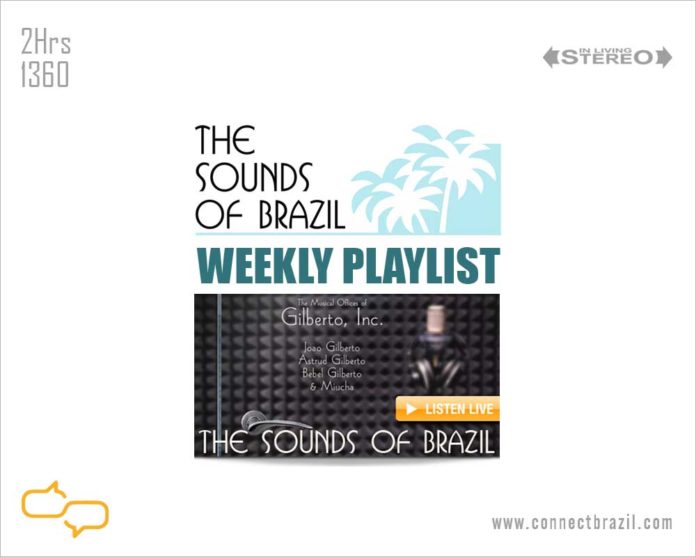 Program #1360 – Bossa 60: 'Gilberto, Inc.
"Gilberto, Inc.' airs daily from 06-20-18 through 06-26-18 Monday-Friday at 7 am, 3 pm, 6 pm and midnight Central Time (US). Weekends, too.
On The Radio: Listen to The Sounds of Brazil every Sunday, 2-4 pm on Chicago's 909. FM WDCB, and Sundays at 7 pm and Wednesdays at 5 pm on Brasil Radio, 93.1 FM + 810 AM in Orlando FL. Click here for a complete list of our affiliate stations.
She's The Girl From Ipanema's daughter & she's tired of just singing her mother's old tunes. Now she's into the latest styles from Milan! This week the New Bossa sound pluses our playlist. How did this happen? The story is in the music!
These days, our digital lives make it easy to take music for granted. But it's a lot more special when we don't. This week, we'll tune in to the generational talent of the Gilberto clan, born from a single creative moment in Brazilian song 60 years ago this summer.
Hour 1:
Set 1: The Sounds of Brazil Opening Theme
Third Time Lucky<>Basia/Basia on Broadway
Super Ambient<>Bossacucanova/Ipanema Lounge V.1
Fly Me To The Moon<>Julie London/Ultra Lounge #14
Welcome to the Lounge            
Doralice<>J. Gilberto & S. Getz/Bossa Years
Special Announcement
Summer Breezin' (SomeBossa)<>Al Jarreau/My Old Friend
Set 2:
Introduce Our Next Set
Summer Samba (So Nice)<>Astrud Gilberto/Album
Pepe<>Ricardo Silveira/Small World
Introduce Next Set                           
Guarapiranga<>Toco/Outro Lugar
Mainstream<>Soulstance/Truth Simplicity & Love
Like A Prayer<>Danni Carlos/Danni
Set 3: This Week's Spotlight Song
Circular<>Bianca Rossini/Kiss of Brazil
Bitcoin Samba<> Roy Stephansen/Single
Bein' Cool<>Djavan/Puzzle of Hearts
---
It's Bossa Nova's 60th Birthday! Read all about it with our Bossa 60 StoryStream.
---
Hour 2:
Set 1:
Momento<>Bebel Gilberto/Momento
Welcome To Our Second Hour
Samba Da Minha Terra<>Joao Gilberto/Legendary Joao Gilberto
Easy Ridin'<>Leo Gandelman/Western World
Os Grillos<>Marcela Mangabeira/Simples
Special Announcement
Set 2:
Introduce Next Set
Saudosismo<>Miucha/Saude Brasil
Ocean Way<>Torcuato Mariano/Last Look
Introduce Next Song
Tout Est Bleu<>Bebel Gilberto/Tudo
Meu Pais (My Country)<>Luiz Avelar/Homenagem a Ivan Lins
Color of the Watercolor<>R. Folegatti/Watercolors
Set 3:
Who Needs Forever?<>Astrud Gilberto w/Thievery Corp.
Tema de La Onde<>Nicola Conte/Café Roma Vol. 2