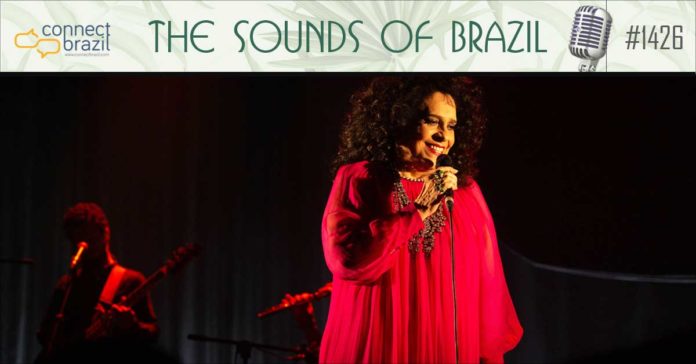 PROGRAM #1426 – 'THE BEST OF GAL COSTA'
Live365.com is the Official Streaming Radio Partner for The Sounds of Brazil!
'The Best of Gal Costa' airs daily from 09-25-19 through 10-01-19 Monday-Friday at 7 am, 3 pm, 6 pm and midnight Central Time (US). Weekends, too.
On The Radio: Listen to The Sounds of Brazil every Sunday, 2-4 pm on Chicago's 909. FM WDCB, and Sundays at 7 pm and Wednesdays at 5 pm on Brasil Radio, 93.1 FM + 810 AM in Orlando FL.


Hello again,
Autumn's arrival means Spring down south, when Brazil reclaims the sun for its personal gradification. But don't worry: this is the radio show that chases the sun all year long. Happy to be with you again for a spedcail program.
Every year at this time, The Sounds of Brazil takes a full week's worth of radio show to kick off our month-long 'Songs In The Feminine Key' theme by celebrating the birthday of Brazil's most mesmerizing female voice, Gal Costa.
In recent years, another September birthday for Gal Costa means a new album release for her fans. This year, it's the double CD album and DVD of A Pele do Futuro – Ao Vivo and critics are saying the Live in concert recording is even better than last year's studio version.
Rio de Janeiro music critic Mauro Ferreira writes that "Gal Costa remains one of Brazil's most modern and relevant singers of all time.
Gal shatters the notion of time, shuffling past and present with the uniqueness of the voice that has helped tell the history of Brazilian music since 1965."
There's a lot to love about Gal Costa's voice and this week it's all about her very best songs.
Enjoy!
Scott Adams
---
Get the Connect Brazil e-Letter here!
The best events, coast to coast are just a click away at Connectbrazil.com, and we're adding more events every day! Concerts, Film Festivals, Meetups and more. Music, Travel, Friends & Fun! Find them on the Menu or click here on your computer, tablet or smart phone.
~ ~ ~
Every song you've ever loved started out as a new song, and our 'New Music: Brazil' channel is where to fiund your future favs! From big names like Eliane Elias, Ivan Lins, Marcos Vally and Torcuato Mariano to fan newcomers like Daniela Solidade, Cecy Santana, San-Sao Trio and Gabriel Elias. Hear them all onanytime. Click here to listen.
~ ~ ~
Sunday's 'Brazilian Brunch' serves up the softer side of Brazilian song on The Sounds of Brazil stream this weekend! We'll sample some of the best and breeziest, along with a request or too! So make plans to join me this Sunday for three full hours beginning at 5 am, 9, 2 and 8 pm Central.
~ ~ ~
'THE BEST OF GAL COSTA'
Hour 1:
Set 1: The Sounds of Brazil Opening Theme
Lovin' You<>Fabiana Passoni/Lovin' You
Sexy Bossa<>Latin Vibe/Chill Classics
Bim Bom<>Joao Gilberto/Legendary
Welcome to the Lounge
Coração Vagabundo <>Caetano Veloso & Gal Costa/Domingo
Set 2:
Introduce Our Next Set
Dona Sophisticada<>Gal Costa/de Tantos Amores
Just Between Us<>Randy Brecker/Into The Sun
Introduce Next Set
Afterglow<>Mark Sganga/Sganga Nova
Back At One<>Brian McKnight & Ivete Sangalo/Millennium
Mais Feliz<>Marcio Menescal/Bossa Now #6 After Dark
Set 3: This Week's Spotlight Song:
Quiet Nights (Corcovado)<>Alexandra Jackson/Legacy & Alchemy
Fly Over The Horizon<>Marcos Ariel/Americas
Morro de Paixao<>Ricardo Peixoto/Scary Beautiful
'THE BEST OF GAL COSTA'
Hour 2:
Set 1:
One Crazy Summer<>Urban Funk Society/Brasil 5000
Welcome To Our Second Hour
Chuva de Prata<>Gal Costa/A Pele Do Futuro Ao Vivo – New!
Dancing With Angels<>Rainforest Band/Between Dreams
Bein' Cool<>Djavan/Puzzle of Hearts
Special Announcement
Tantos Desejos<>Suba/Brasil 2000 (remix)
Set 2:
Introduce Next Set
Begin The Beguine<>Gal Costa/Plural
Bossa Love<>Marcos Ariel/4 Friends
Introduce Next Song
It's Raining At Buriti Farm<>Dori Caymmi/Kicking Cans
Tapete Magico<>Gal Costa/Fantasia
Love Dance<>Mike Metheny/Street of Dreams
Set 3:
Introduce Last Set
Laziest Gal In Town<>Gal Costa & Bobby McFerrin/Gal
Feito Pra Voce<>Celso Fonseca & Jussara Silveira/Juventude
~ ~ ~
Next Week: It's the first of three consecutive weeks of special shows featuing October's theme, 'Songs In The Feminine Key' in support of Brest Cancer Awareness month, with 'The Girls From Ipanema'.
Whether it's your radio, your computer at work or your tablet or smart phone, thanks for tuning in! I really appreciate it, and please tell a friend or two about us.
And don't forget about our weekly broadcasts in Chicago, Sundays at 2 pm on 90.9 FM WDCB.
'THE BEST OF GAL COSTA'