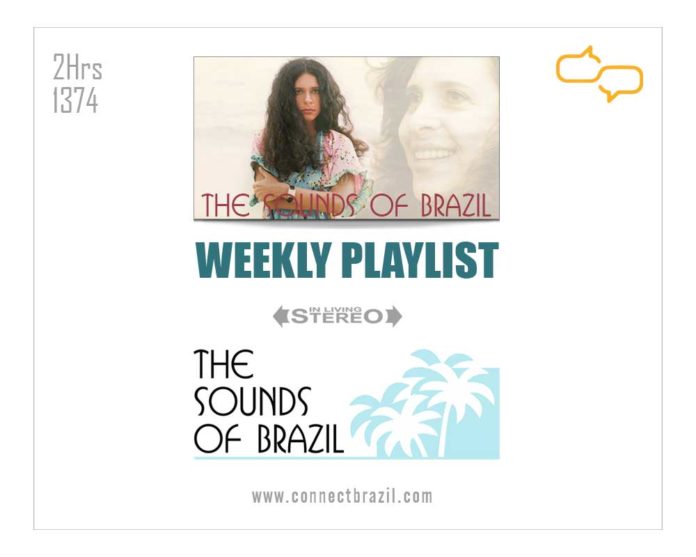 Program #1374 – 'The Best of Gal Costa'
'The Best of Gal Costa' airs daily from 09-25-18 through 10-02-18 Monday-Friday at 7 am, 3 pm, 6 pm and midnight Central Time (US). Weekends, too.
On The Radio: Listen to The Sounds of Brazil every Sunday, 2-4 pm on Chicago's 909. FM WDCB, and Sundays at 7 pm and Wednesdays at 5 pm on Brasil Radio, 93.1 FM + 810 AM in Orlando FL.
CLICK ON ANY SONG TO ORDER FROM AMAZON. YOU'LL BE SUPPORTING THE SOUNDS OF BRAZIL WHEN YOU DO. THANK YOU!
'The Best of Gal Costa'
Hour 1:
Set 1: The Sounds of Brazil Opening Theme
Lovin' You<>Fabiana Passoni/Lovin' You
Sexy Bossa<>Latin Vibe/Chill Classics
Bim Bom<>Joao Gilberto/Legendary
Welcome to the Lounge
Coração Vagabundo <>Caetano Veloso & Gal Costa/Domingo
Set 2:
Introduce Our Next Set
Dona Sophisticada<>Gal Costa/de Tantos Amores
Just Between Us<>Randy Brecker/Into The Sun
Introduce Next Set
Afterglow<>Mark Sganga/Sganga Nova
Back At One<>Brian McKnight & Ivete Sangalo/Millennium
Mais Feliz<>Marcio Menescal/Bossa Now #6 After Dark
Set 3: This Week's Spotlight Song:
Quiet Nights (Corcovado)<>Alexandra Jackson/Single
Fly Over The Horizon<>Marcos Ariel/Americas
É Preciso Perdoar<>Adam Dunning/Sunset Monkeys

Hour 2:
Set 1:
One Crazy Summer<>Urban Funk Society/Brasil 5000
Welcome To Our Second Hour
Sublime<>Gal Costa/A Pele Do Futuro
Dancing With Angels<>Rainforest Band/Between Dreams
Bein' Cool<>Djavan/Puzzle of Hearts
Special Announcement
LA Samba<>Marion Meadows/Next To You
Set 2:
Introduce Next Set
Begin The Beguine<>Gal Costa/Plural
Bossa Love<>Marcos Ariel/4 Friends
Introduce Next Song
It's Raining At Buriti Farm<>Dori Caymmi/Kicking Cans
Tapete Magico<>Gal Costa/Fantasia
Love Dance<>Mike Metheny/Street of Dreams
Set 3:
Introduce Last Set
Laziest Gal In Town<>Gal Costa & Bobby McFerrin/Gal
Feito Pra Voce<>Celso Fonseca & Jussara Silveira/Juventude