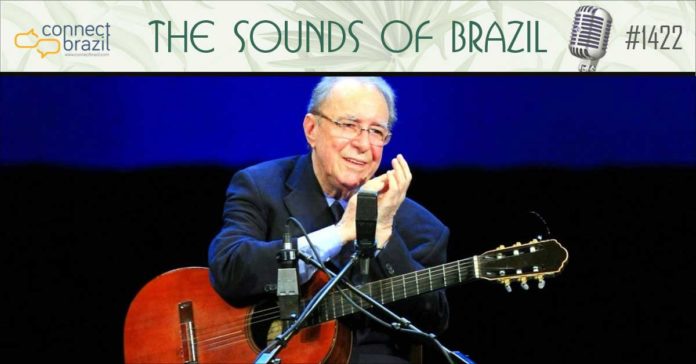 Program #1422 – The Legacy of Joao Gilberto
'The Legacy of Joao Gilberto' airs daily from 08-28-19 through 09-03-19 Monday-Friday at 7 am, 3 pm, 6 pm and midnight Central Time (US). Weekends, too.
Listen to The Sounds of Brazil!
> USA, Canada and UK Listeners via Live365.com
> Listen Worldwide via TuneIn.com
On The Radio: Listen to The Sounds of Brazil every Sunday, 2-4 pm on Chicago's 909. FM WDCB. Click here for a complete list of our affiliate stations.
These days, our digital lives make it easy to take music for granted. But it's a lot mor`e special when we don't.
This week, we'll tune in to The Legacy of Joao Gilberto and the generational talent of Brazil's 'First Family' of Bossa Nova. A legacy born from a single creative moment in Brazilian song more than 60 years ago this summer.
More from Connectbrazil.com:
Brazilain Independance Day is less than a week away and our Brazilian Day Coast to Coast Guide is the place to go for all the best concerts, festivals and street parties. Ready to join in? We're adding more events every day! Music, Travel, Friends & Fun! Click here on your computer, tablet or smart phone.
~ ~ ~
Love the music? Like our page at Facebook. Click here then share The Sounds of Brazil with your friends. You'll have my thanks!
~ ~ ~
Summertime Read: Settllng in with a good book is one of the joys of summer. Want to experience the stories and people surrounding the birth of Bossa Nova in Rio de Janeiro? Bossa Nova's most important book makes a great impression: it's almost like being there!
~ ~ ~
Sunday's Brazilian Brunch serves up long sets of summery sambas – the perfect musical backdrop for whatever you have going on this weekend! Only on Sundays at 5 am, 9 am, 2 pm and 11 pm Central time and only on The Sounds of Brazil's streaming station from the player.
~ ~ ~
Sign up for our Connect Brazil e-letter!
The Legacy of Joao Gilberto
Hour 1:
Set 1: The Sounds of Brazil Opening Theme
Third Time Lucky<>Basia/Basia on Broadway
Super Ambient<>Bossacucanova/Ipanema Lounge V.1
Fly Me To The Moon<>Julie London/Ultra Lounge #14
Welcome to the Lounge
Doralice<>J. Gilberto & S. Getz/Bossa Years
Special Announcement
Summer Breezin' (SomeBossa)<>Al Jarreau/My Old Friend
Set 2:
Introduce Our Next Set
Summer Samba (So Nice)<>Astrud Gilberto/Album
Pepe<>Ricardo Silveira/Small World
Introduce Next Set
Guarapiranga<>Toco/Outro Lugar
Mainstream<>Soulstance/Truth Simplicity & Love
Like A Prayer<>Danni Carlos/Danni
Set 3: Introduce This Week's Spotlight Song
Circular<>Bianca Rossini/Kiss of Brazil
Bitcoin Samba<> Roy Stephansen/Single
Bein' Cool<>Djavan/Puzzle of Hearts
Samba Saravah<>Pauline Croz/Bossa Nova
---
Subscribe to the Connect Brazil e-letter. It's free.
---
The Legacy of Joao Gilberto
Hour 2:
Set 1:
Momento<>Bebel Gilberto/Momento
Welcome To Our Second Hour
Samba Da Minha Terra<>Joao Gilberto/Legendary Joao Gilberto
Easy Ridin'<>Leo Gandelman/Western World
Os Grillos<>Marcela Mangabeira/Simples
Special Announcement
Lamento<>Christian McBride & Ernie Watts/Twist of Jobim
Set 2:
Introduce Next Set
Saudosismo<>Miucha/Saude Brasil
Ocean Way<>Torcuato Mariano/Last Look
Introduce Next Song
Tout Est Bleu<>Bebel Gilberto/Tudo
Meu Pais (My Country)<>Luiz Avelar/Homenagem a Ivan Lins
Color of the Watercolor<>R. Folegatti/Watercolors
Set 3:
Who Needs Forever?<>Astrud Gilberto w/Thievery Corp.
Tema de La Onde<>Nicola Conte/Café Roma Vol. 2
~ ~ ~
Next Week: 'Old Scholl Bossa Nova' sets the pace for back-to-back holiday weekends (if you're a Brazil Nut like all of us here!) for Brazilian Independence Day. Please plan to join me for two hours of his best Bossas, and a story or two.
I hope you'll enjoy the program this week, too and please – tell a few friends about us! It's always great to share the music.
Whether it's your radio, your computer at work or your tablet or smart phone, thanks for tuning in! I really appreciate it, and please tell a friend or two about us.
And don't forget about our weekly broadcasts in Chicago: Sundays at 2:00 pm Central on 90.9 FM WDCB and wbcb.org.
View our complete daily broadcast schedule here.